Looking for the Best Paracord? 13 High-Quality Paracords Reviewed
Parachute cord, aka paracord, aka paracord rope, is known for its strength and durability. Therefore people use paracord ropes for many other purposes that were not the original intended use.
High quality paracord is that which is made with 100% nylon sheath. The paracord rope is made with all nylon cord inner strands. Paracord rope is known for the guarantee of durability and safety.
The best paracord is also the most famous; during World War II, 550 paracord was in use for carrying lines of parachutes. 550 paracord was known for its strength and versatility in use. During war times, a good rope is as good as a weapon.
Six major types of paracord are available on the market. The original, quality paracord was the type iii, 550 paracords. It gets its name for its capacity to carry 550 lbs pounds of load. Modern paracords have better quality, stronger load capacity, and they feature various colors for your choice.
The appeal of quality paracord is many folds. You can use a paracord as rope for your household works, like fishing lines, rifle sling, or an extra layer on your emergency knife handle. Paracord can be used in survival scenarios to make survival ropes and survival paracord bracelets.
Paracords are braided. The strongest paracord can be identified by how well it is braided. The tightly interwoven design and sturdy construction make your paracord extremely durable.
Now paracords are used for skydiving, survival rope, survival bracelet, fishing line, climbing ropes, and other survival tasks.
13 Best Paracords Reviewed: Our Top Picks
In our research, we have come across many different types of paracord. We have selected the best paracord you can buy. Check out our list and price, and see what works for you:
Paracord Planet Paracord is a type iii, 100% nylon sheath paracord. It is extremely durable and strong. It can withstand any condition it is met with.
This USA-made high quality paracord rope is certified by the US government. It is commended for its strength and durability.
Paracord Planet Paracord has a twisted inner strand that protects the core marker strand, giving it durability. It can take up to 550 pounds in tensile strength.
You can use this 550 paracord rope for making paracord projects like bracelets, wrapping hatchets, knives, camping, rafting, hiking, lanyards, necklaces or paracord coasters, or cozies, self-defense tools, wrapping hatchets, knives, or tools. It's great to have at the lake, on your boat, for boy scout and girl scout troops, and whatever needs you might have.
It comes in 50+ colors and lengths of 1000 feet, 250 feet, and 100 feet.
| | |
| --- | --- |
| Pros | Cons |
| US-made | Preferred colors may be unavailable for extreme demand |
| UV exposure resistant | |
| Type III cord Nylon | |
| Stretches few feet | |
| Great paracord bracelet | |
| 4mm in diameter | |
| 32 strand nylon sheath | |
| Ultimate survival cord | |
| US government-certified manufacturer | |
This heavy duty 550 paracord rope is made of 100%  nylon materials. Gear AID 550 works best for all outdoor uses. You can use this paracord rope for your camping needs or as a fire starter. You can make dog collars, emergency knife handle wrap, key chains, and all the assorted paracord projects.
This field-tested, highly durable, high quality paracord rope is available in many colors and sizes of 30 feet and 100 feet.
| | |
| --- | --- |
| Pros | Cons |
| 100% nylon ropes | Does not come in a spool |
| It can be used as a fire starter | |
| UV exposure resistant | |
| Can be used to make paracord bracelet | |
| Seven strand nylon sheath | |
| Ultimate survival cord | |
This 550lbs, type III paracord rope is the US-made commercial paracord. This paracord is made as MILSPECparacord or Military Specification tactical paracord. Still, it is suitable for home and outdoor uses. All your paracord projects like making survival bracelets, fishing line, camping life, emergency knife handle wrap. All of these are possible GOLDBERG 550lb Parachute Cord Paracord.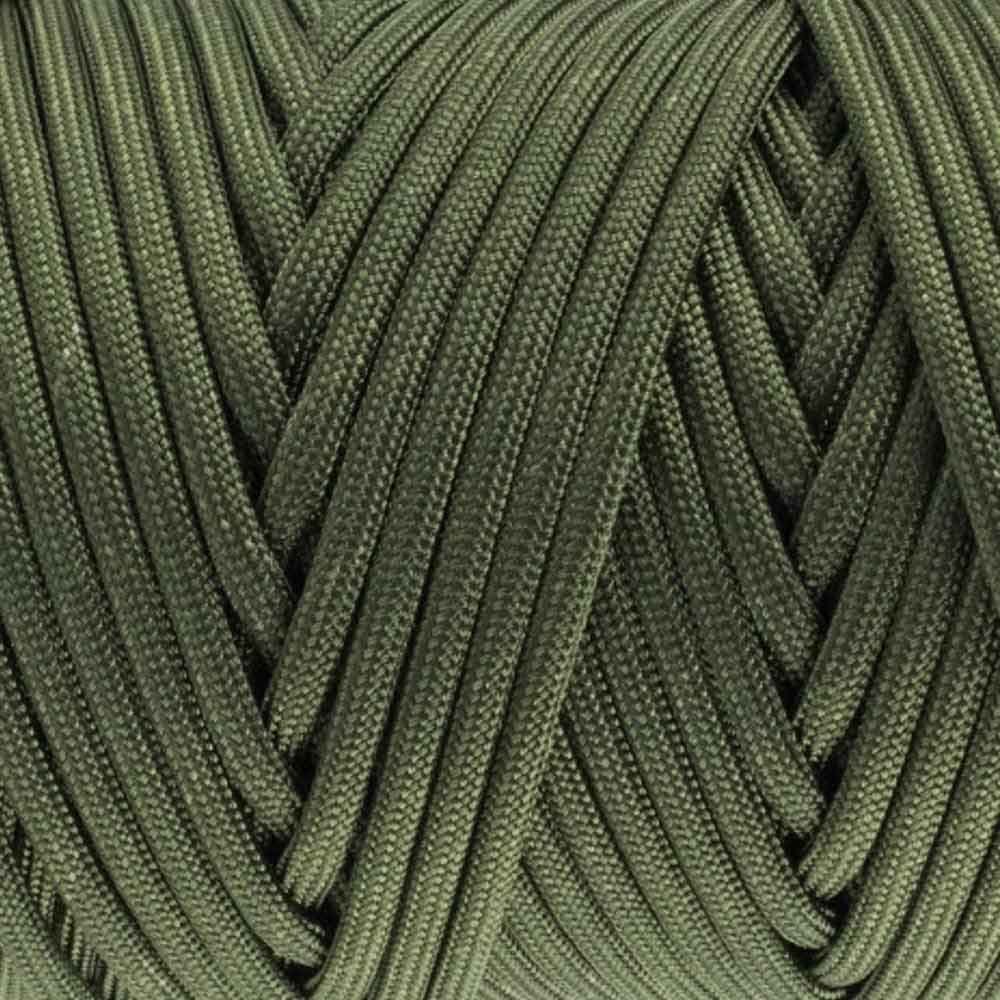 GOLBERG'S 550LB TYPE III MIL-C-5040-H, otherwise known as GOLDBERG 550lb Parachute Cord Paracord, is UV ray, sunlight, and abrasion resistant.
This military grade paracord rope comes in 25, 50, 100, 500, and 1000 feet in length. The smaller ones are hand wrapped and packed; the 500 and 1000 feet ones come in a spool.
| | |
| --- | --- |
| Pros | Cons |
| 100% nylon ropes | Smaller ones come with no spool |
| UV exposure resistant | |
| Ultimate survival cord | |
| Useful in emergency situations | |
| Type III cord Nylon | |
| Aimed at military units | |
| Great rope for outdoor use | |
| Can be used to make bracelet | |
WEREWOLVES 650lb Paracord has a tested tensile strength of 650lbs. This 5/32" diameter rope has nine strand inner cores with three layers of twisted yarn.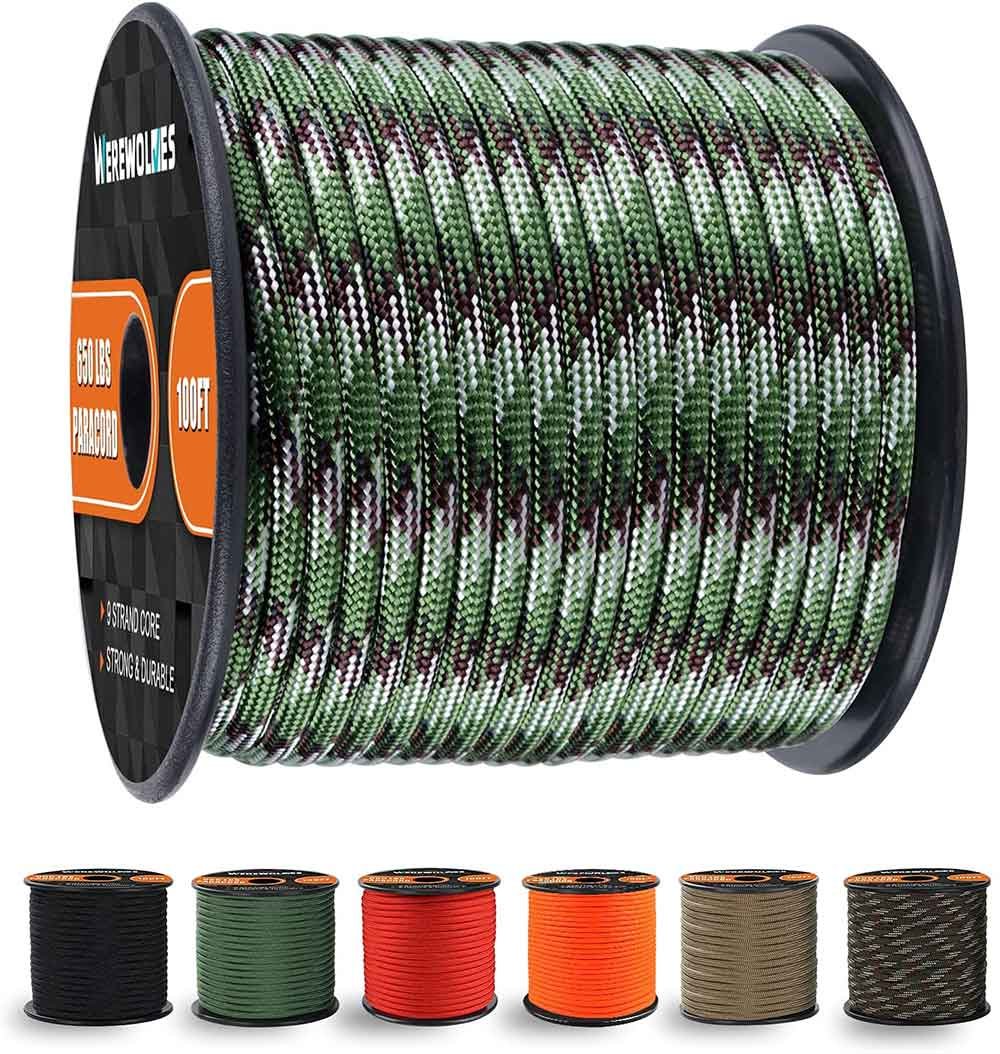 This high-quality type IV paracord is UV ray resistant, sunlight resistant, abrasion free, and doesn't fray with friction.
The tough grid paracord can be sued to make keychains. Pocket knife handles wrap, survival bracelets, clothesline, camping rope, fishing line, boot laces, perimeter fence, and all the other paracord projects you can think of.
WEREWOLVES HIGH QUALITY PARACORD promises you satisfaction. You can store it anywhere, and it will not be damaged.
Werewolves are giving you a lifetime manufacturer warranty. If you are not satisfied, they will refund 100%.
| | |
| --- | --- |
| Pros | Cons |
| Lifetime manufacturer warranty | Smaller ones come with no spool |
| UV exposure resistant | |
| Type IV cord | |
| 650lbs tensile strength | |
| Best rope for outdoor use | |
| Ultimate survival cord | |
SurvivorCord XT is a military grade patented Proprietary Nylon / Polyester Blend paracord designed under the demands of U.S. Special forces in Afghanistan.  This type IV paracord is the 3rd generation mil spec paracord design.
It has a fire resistant 110lb Kevlar inner core, which can withstand 900°F heat.
SurvivorCord XT has a braided 750lb paracord, 25lb fishing line, and one waxed jute strand for firestarters. Under testing conditions, it is recorded to have been soaked for 8 hours and still could spark within seconds.
This paracord has a tensile strength of 1000lbs. Two times more than of commercial paracord. Unlike commercial paracord, SurvivorCord XT is not nylon entirely. It is a mix of nylon and polyester.
This military grade paracord comes with interwoven filament that you can use to hunt and melt to patch holes.
SurvivorCord XT promises 100% customer satisfaction, or they will refund your purchase.
| | |
| --- | --- |
| Pros | Cons |
| Refund offers | Comes with no spool |
| UV exposure resistant | |
| Type IV Nylon, sturdy rope | |
| 1000lbs tensile strength | |
| Useful in emergency situations | |
| Tough grid paracord | |
| Best rope for outdoor use | |
| Comes with fishing line and waxed jute strand | |
| Ultimate survival cord | |
Extremus TRUE Mil Spec 5040 Type III Paracord is a military grade paracord made the USA. It is reliable and sturdy and is known for the mil spec quality it maintains overall.
This rope can be used as a survival bracelet for survival situations, belt, pocket knife handle, fishing rope, camping rope, fencing rope. The seven nylon inner strands and three spirals are braided together. Those strands can be used as a fire starter. This tinder strand tool is a must-have for campers, hikers, survivalists, and homeowners.
ExtremusParacord is UV resistant, heat and light resistant. The color is permanent, and so your paracord will look new even after years of use.
It comes in a storage bag that can be re-used and stored easily.
ExtremusParacord comes in 25, 50, and 100 feet lengths and in black, Camo Green, Hi Viz Orange, White, and Desert Sand.
| | |
| --- | --- |
| Pros | Cons |
| Permanent Color | Comes with no spool |
| UV exposure resistant | |
| It can be used as a fire starter | |
| Sturdy type III rope | |
| 550lbs tensile strength | |
| Tough grid paracord | |
| Superb rope for outdoor use | |
If you are looking for paracords for making interesting paracord projects, this is the one for you. MONOBIN comes with 12  buckles, two carabiners, and two key rings to assist your paracord projects. You can make the best paracord bracelets, lanyards, necklaces, key chains, and many more.
The cord itself is a type III commercial paracord, with seven inner strands covered by a tightly woven nylon sheath. This sturdy all nylon paracord can withstand 550lbs of load, and beyond that, it can give you a few more pounds before breaking because of the stretch of this paracord.
MONOBIN 550 is a soft, easy to knot and weave durable paracord. It can suit a variety of use. You can use this as a dog collar, fishing line, make handicrafts with it, and many, many other uses.
It comes in 12 different colors and is 10ft in length, totalling 120ft. You can also buy 340ft long MONOBIN 550. It comes with four carabiners and four key rings. Both come with a re-usable packing bag.
The gifts with MONOBIN 550 can be used for:
| | |
| --- | --- |
| Buckles – | Used for backpacks, straps, suitcases, bracelets, belts, dog collars, etc. |
| Carabiner | Suitable for fixing and carrying key water bottles, camping equipment, hanging lanterns and lights, dog chains, etc. |
| Keyring | It can be used to hang your door keys, car keys, elevator cards, crafts, etc. |
| | |
| --- | --- |
| Pros | Cons |
| 12 Colors | 10feet segments |
| UV exposure resistant | |
| Sturdy type III rope | |
| Easy paracord bracelet | |
| Comes with a packing bag | |
| 550lbs tensile strength | |
| Comes with utility tools | |
| Best rope for outdoor use | |
This paracord is braided with 1 PE braided fishing line(40lb), one red waterproof flax fire tinder, and one cotton thread, measuring 5/32 inches in diameter. PSKOOK is made with polyester material, not nylon, which is cheaper and equally strong as nylon ropes. The outer shell is sleek and comfortable to hold. Unlike other commercial paracords, it has 380lbs tensile strength. If you are not looking to skydive, this is the paracord you can use for your enterprise. 550lbs is necessary for skydiving, but if you need a paracord rope for any other reason than skydiving or climbing, you can buy this- PSKOOK Survival Paracord.
It is a multipurpose paracord rope, and you can make all sorts of cool paracord projects with this. You can make wilderness survival bracelets for survival situations, keychains, fishing lines, etc.
It has a wax jute strand for making a fire easily. It has 10 strands with one marker strand, measuring 5/32 inches in diameter. PSKOOK Survival Paracord in 25 feet and 100 feet lengths.
If you are not going to use paracord for skydiving, this is the paracord for you.
| | |
| --- | --- |
| Pros | Cons |
| Multipurpose rope | Not for skydiving |
| UV exposure resistant | |
| Cheap | |
| Sturdy type III rope | |
| 550lbs tensile strength | |
| Tough grid paracord | |
| Best rope for outdoor use | |
UST 30 Foot ParaTinderparacord is the best paracord for use in a limited manner. It weighs 1.2oz. It is very light but very durable.
The strands can be taken off once the nylon strand is removed with a swiss army knife. You can use the inner strands for fire making, fishing, sewing thread, or patching holes.
This durable 550 paracord can be used to make survival bracelets, zipper pulls, handle wraps, etc.
UST 30 Foot ParaTinder is very light, and you can store it in your hiking backpack.
Our research shows us UST 30 foot para tinder is among the highest used paracords among hikers and climbers.
| | |
| --- | --- |
| Pros | Cons |
| Multipurpose rope | Only 30 feet |
| UV exposure resistant | |
| Cheap | |
| 550lbs tensile strength | |
| Tough grid paracord | |
| Best rope for outdoor use | |
Paracord Planet is a household paracord name for people who take an interest in the various usage of paracords. PARACORD PLANET Reflective Paracord is their most reviewed product.
It is reflective, made with 100% pure nylon, and has a strength of 550 pounds. This product has been called- Utility Cord, Parachute Cord, 550 Cord, Utility Cord, Tactical Cord, Military Cord, and Paracord Rope.
It has interwoven reflective tracers, which makes it very useful for survival and safety.
PARACORD PLANET Reflective Paracord comes with the Paracord Planet™ promise of quality. Like all other Paracord Planet™ products, it can be used to serve many purposes like paracord bracelets, survival paracords, and other paracord projects.
This paracord is available in 10, 25, 50, and 100 Foot Lengths for your needs.
| | |
| --- | --- |
| Pros | Cons |
| Best rope for outdoor use | Only 30 feet |
| Easy paracord bracelet | |
| UV exposure resistant | |
| Cheap | |
| 550lbs tensile strength | |
| Best commercial paracord | |
| Tough grid paracord | |
620 LB SurvivorCord is the first of its kind, mil spec paracord, made of a nylon-polyester blend. It is one of the paracords designed with the supervision and specification of the US Special Forces in Afghanistan. This paracord has served our brave men and women of Red, White, and Blue for many years.
620 LB SurvivorCord uses three 550 paracords braided together to make a 620lbs paracord. It includes a braided, transparent, high strength, 25lbs mono fishing line filament to use with fishing hooks. You can use this to fish and hunt.
620 LB SurvivorCord has a waxed jute cord as a fire starter. You can melt the fishing rope to patch holes. This is the only paracord in the market that challenges igniting the cord with fire under heavy rainfall.
This multipurpose paracord feathers a 30AWG metallic alloy that features a conductive metal wire, so 620 LB SurvivorCord can be used as Radio antennae.
620 LB SurvivorCord is patented, so you can be sure that this is not a rip-off product.
| | |
| --- | --- |
| Pros | Cons |
| Best rope for outdoor use, very safe | Expensive |
| It can be used as a fire starter | |
| One of  a kind | |
| 620lbs tensile strength | |
|  Has eleven internal strands | |
| Waxed jute cord  Firestarter with conductive metal wire | |
| Tough grid paracord | |
Evrebilt paracord ropes are lightweight, light-duty paracords that use nylon to manufacture the best paracord for light use. This paracord dries faster than other paracords; that is why this is the best paracord for outdoor camping, hiking, and other outdoor activities. Evrebilt paracord ropes are the finest paracord rope for one paracord bracelet.
The ends of Evrebiltparacord ropes are fused so that this paracord will not unravel. It has a working load limit of 160 lbs. It comes in 1/8 inch diameter and 50feet length.
If you are looking for a multipurpose paracord, look no further.
| | |
| --- | --- |
| Pros | Cons |
| Best rope for outdoor use, very safe | Limited use |
| Lightweight | |
| Strong internal strands | |
| 620lbs tensile strength | |
| Firestarter with conductive metal wire | |
| Tough grid paracord | |
The quality, strength, and longevity of American-made paracord are in high demand by those who use it to tie down objects, make survival bracelets, pack for hikes, upgrade bug out bags, or simply keep some on hand in case of emergencies. Over a million TOUGH-GRID customers have raved about the product's exceptional build quality and durability in their feedback.
The strength of this paracord is impressive. Whether you're building a hammock, lifting a tree stand or suspending a bear bag, TOUGH-GRID paracord can take the job.
With TOUGH-GRID paracord, you can be sure you're getting the best military-approved paracord on the market. There is nothing quite like a cozy campfire to draw people closer, and because of this, you can relax knowing that you are prepared with the best possible paracord in the event that you require it. In addition, if your predicament evolves into a survival scenario, this cord will continue to function while being severely damaged.
The diameter of this paracord ranges from 5/32″ to 3/16″ and has a stretch of 30%. In addition, it has an embedded tracer strand, and it's resistant to UV light and abrasion.
This paracord has 11 inner triple strands, whereas a 550lb cord is mostly constructed with 7 inner double strands. The U.S. Military requires paracord made entirely of nylon to fulfill their specifications since it is both tougher and multifunctional.
Among the six available lengths are 50, 100, and 150 footers, which are curled in a bag. The 200-foot paracords are delivered in a tube. Each of the 500- and 1000-foot lengths is wound onto its own spool. If you have a lot of survival gear, a 500- or 1000-foot spool would be the best option for your needs.
Make your survival paracord bracelet out of the best materials you can find. For emergencies, you'll be glad to have it on hand!
For the sake of everyone's safety and enjoyment, TOUGH-GRID paracord is an excellent investment. Your next camping or hiking excursion will be more enjoyable thanks to this piece of gear.
Pros
Waterproof
Suitable for parachuting and camping
Skin-friendly; doesn't cause irritation
It is robust and durable
Smooth and flexible with 30 percent stretch
UV-resistant
Heavy-duty strength
Comes in five convenient lengths
Amazingly versatile survival tool
Extremely high weight rating
Comes with storage bags, tubes, and spools
Cons
Does not float
A bit expensive
Paracord Materials, Why It Matters
Many types of rope are used to make commercial paracords. They are not all equally good. Here is a small guide for you to know what rope is best for what reasons:
Polypropylene Rope
Polypropylene rope is significantly less expensive than nylon or polyester rope. These ropes are made of synthetic materials. Polypropylene rope floats, making it easier to retrieve them if they become tangled. They can also be utilized for search and rescue operations. They do, however, offer a limited level of UV Ray resistance. They can, in rare circumstances, cause injury to your hands. Polypropylene rope, on the other hand, is abrasion resistant and chemical resistant. Strong and resistant to heavy loads, it is a fantastic choice. Although it is flexible, it has a limited amount of stretch compared to nylon and polyester cord.
Nylon Rope
The stress absorption properties of nylon rope are superior. As a result of their ability to stretch up to 40%, they are better suited as survival ropes. When they get wet, though, they lose their strength. Fortunately, people have developed innovative solutions to this problem, such as using stainless steel as a fastening material for nylon rope. Nylon rope will not float in water. It has a long life span and can withstand rot, mildew, and severe weather conditions.
Nylon rope is resistant to water and the majority of chemicals. It is significantly more resistant to heat and sunshine than any other type of commercial paracord available. Although nylon rope can be stretched, they always return to their original length.
Polyester Rope
Polyester ropes, without a doubt, are the best type of rope available. It is inexpensive. In addition, they are virtually as strong as nylon rope. When it becomes wet, it does not lose any of its strength. It does not float. It has a longer life.
A polyester paracord line has a high level of abrasion resistance and durability. It is as weather-resistant as nylon rope and can tolerate sunlight. It is shock-resistant, UV resistant, and it expands just a small bit when stretched. It is the most suitable choice for the best survival rope. However, it may be utilized for several other applications as well.
| | | |
| --- | --- | --- |
| Polypropylene rope | Nylon rope | Polyester rope |
| Lightweight | Strong | Strong |
| Minimum Stretch | Shock absorption | Low Stretch |
| Flexible | Oil resistant | UV Ray Resistant |
| Load capacity high | Good Abrasion | Rot proof |
| Chemical Resistant | Mildew resistant | Soft |
| Good abrasion Resistance | Returns to the original length | Easy to handle |
What You Need to Know about Paracords
Paracords get their names from their original purposes of being parachute cords. Parachutes featuring paracords were the cutting edge tech during WWII. Paracords made soldiers' lives easier and made operations more efficient through air-drops.
Paracords are usually made of nylon due to their stretchability. The legendary strength to weight ratio makes it the most trusted binding and camping material.  The US military has used custom-made paracords in Iraq and Afghanistan. There was room for more improvement on these products. The original 550lbs paracords were replaced with more light 620lbs and 1000lbs paracords.
Paracords are different from ropes because paracords are braided sheaths of nylon or polyester rope strands interwoven. This subtle distinction may not be apparent, but under survival conditions, this makes a huge difference. Paracords have three to 11 core strands and one marker strand.
Traits of a Good Paracord
Paracords must be flexible to withstand the stress. Paracords are three times more flexible than normal nylon cords. Paracords can be easily modified for a myriad of uses. The design of a paracord allows it to be strong yet flexible for trying times.
You can take a paracord rope to make more ropes. Paracords are made by braiding together several other cords. Therefore if you need, you can pull your paracord apart and tie those other cords as extra rope for your use. Best paracords have fishing lines, fire making cords, fencing cords, and other durable cords that are interwoven. This is this trait that makes paracords so very special. The more strands a paracord has, the better.
Paracords can withstand a tremendous load. It is amazing to think just how durable this small-width cord can be. A 550lbs paracord handles 550lbs of load; a thousand-pound paracord does the same with one thousand lbs.
Types of Paracords
There are four types of paracords available in the market.
Type I
Type I paracords are the most common and cheap paracord. These cords are technically paracord, although they are weaker and have only two yarns. You can find this in any hardware store. These cords are used for cording and decorative purposes. These cords can pull up to 95lbs of load. These are not best for heavy work.
Type II
Type II paracords can withstand 400lbs of load. These cords are pretty rare.
Type III
Type III paracords are also the most common regular paracord; It is the benchmark paracord standard. You can buy a Type III paracord from any hardware store. These are used for survival and outdoor usages. These paracords are light but durable. You can easily cut the paracord with a Swiss army knife, but the rope will not break under the weight. Well, 550lbs is the limit.
Type IV
Type IV  cordis the most expensive, stronger cord. These cords can stand up to 750lbs weight. Some new ones can go up to 1000lbs before breaking.
Mil spec paracord
Mil spec paracord is one of those phrases that often come in paracord ads. What exactly is a mil spec paracord?
A mil spec paracord uses an inner layer of 7 to 9 strands, which contain two or three yarns, all of which is nylon made. So, a military spec paracord will have 21 to 27 inner yarns interwoven together. And will be cover with an outer sheath. This sheath is comfortable in your hand, and it doesn't hurt your hand.
But not all mil spec paracords are actually military standard. They are not the same in material, superior quality, and supervision.  You might be sold with the tag, but keep in mind that mil spec DOES NOT mean military standard, combat-ready paracords.
Commercial paracord
Commercial paracords are not made for military use, but they often maintain a very high standard. For your light-duty use, commercial paracords are better.
You can be sure of what you are buying if you know what you are looking for. First, let's see this chart-
| | | | | |
| --- | --- | --- | --- | --- |
| | Type I | Type II | Type III | Type IV |
| Strength | 95lbs | 400lbs | 550lbs | 750lbs |
| Use | for dummy cording, decorative uses, lacing, and other light duty tasks. | Rare | Used for survival application, decorating, camping, and any  other assorted paracord project | Used for skydiving, military use, climbing |
| Strands | 1 | 4-7 | 7-9 | 11 |
Now, when you go to buy paracord, and the salesmen want to bluff you, you would know.
The best paracords are made with nylon, 100% nylon. Most stuff out there claims nylon, but their materials are polyester. Typical type III paracord will have 100% nylon and three yarns made of nylon. The cheaper commercial paracords use a few yarns more, but that is no matter. Looking for nylon if the seller claims 100% nylon is how you will know the worth of their product.
Look at the yarns. The inner yarns are what give away a bluff. Best paracords will have a minimum of three yarns.
Try asking the seller to burn the ends to see if they can be fused with the same cord. That way, you can tell if the product is really nylon or polyester.
Stress the paracord as much as you can. Stressing a paracord can show you the worth of the material. If you have already bought it, go camping with it. Try to tie a knot on a stick and see how strong that is. If it is tight, you will know you have bought the best paracord.
Taking Care of Your Paracord
Store your paracord in a cool, dry place. Best paracords come with re-usable bags. But you need to keep it in a dry and cool place. Waterproofing the bag is always a good idea.
UV ray frays your paracord. NEVER leave your paracord out in the sun. Do not overuse your paracord. If not in use, keep it in a dry, cool place.
Check your paracord for signs of damage. It may not sound like much, but keeping a close eye on the paracord may save your life someday.
Types of Rope
Twisted Rope
Twisted ropes are made by twisting fibers into strands and then twisting those strands into a rope to create a twisted rope. Twisted rope may be made from various materials, including nylon line, polyester, and polypropylene. It is the most widely used type of rope on the market.
These ropes are simple to splice together.
It has a greater ability to stretch than braided rope. These ropes are less expensive.
These ropes, on the other hand, are less flexible. Furthermore, if the ends are not adequately sealed up, they can easily come apart.
Braided Rope
Weaving 8-10 strands of fiber together into a tube-like form is how braided rope is produced.
There are three types of braided rope available:
Hollow braided rope- Hollow braided rope is created by braiding fibers together into a tube with an open center.
Solid braided rope- Solid braided rope is made by braiding fibers into a tube-shaped rope with a filler core. This type of rope is stronger than hollow braided rope.
Braided rope is more flexible than twisted rope. It is stronger too.
A braided rope has a better finishing than a twisted rope.
But braided ropes are difficult to splice. It also has less stretch than twisted rope.
Conclusion
Paracords are very useful and versatile. It is this fact that makes paracords very desirable and absolutely necessary for people who hike and camp. Travellers and travel enthusiasts need paracords for a variety of reasons. This amazing invention of modern times is very useful for those people. Understanding how paracords work and why they work is information people can use to better their paracord experience.
But understanding is not enough. You need to know how to find the best paracord to appreciate the true usefulness of paracords. Not all paracord is state of the art, top-shelf paracord.
We believe this well-researched article will help you go a long way in that direction. Our list includes the most used, well-reviewed, highest-rated, affordable paracord ropes for your use. Also, you can write to us for more information and suggestions (data rights reserved by our privacy policy).
FAQs
Who makes the best paracord?
Ans: PARACORD PLANET, GEAR AID, GOLBERG, Everbilt, WEREWOLVES, SurvivorCord XT (TITAN Survival), Extremus, MONOBIN, SGT knots, PSKOOK are the best brands that make the best paracord.
What paracord does the military use?
Ans: The military uses mil-spec paracord. There are many paracords available on the market that claim they sell paracord that is mil-spec. But most of those are not true at all. You can refer to the list here. We have listed and reviewed the best mil-spec paracords for your consideration.
Anyway, if you want to know if your paracords are mil-spec, military-grade paracords used by the military unit in real battle conditions, those cords have distinct features. They have more than three nylon strands interwoven and kept under a nylon sheath. Those strands can be melted to patch holes and fuse with other strands.
For your lightweight uses, the paracords do not have to be military-grade. 550lbs are the best paracord there is, and anything higher than that is even better than that.
What should I look for when buying a paracord?
Ans: Buying a paracord is not easy. A general rule of thumb is you look for how many strands are there in the paracord, what the material is, and the tensile strength.
You can have the seller burn one end of the paracord and try to fuse it with the other end. Success in doing so means the paracord you are looking at is the best paracord rope.
What is the difference between 550 and 650 paracord?
Ans: The difference between 550 and 650 paracords is the amount of load that paracord can withstand without breaking. A 550 paracord can take up to 550 pounds of weight without breaking. A 650 paracord can withstand 650 pounds of weight.
Both of these paracords are best for outdoor use and carrying weight. You can make survival bracelets, fishing lines, fences, and other paracord projects work with these paracords.
What color paracord is best?
Ans: The best paracords are those that have higher tensile tolerance levels. Best paracords usually have 550lbs tensile strength or up.
Nylon-made, interwoven braided paracords with conductive metal wearing is also the best paracord.
But if you are looking for color, color doesn't have anything to do with the quality of a paracord. Still, camouflage paracords look cool, and you can get one of those. Reflective paracord is also recommended for heavy outside use.
Other paracord manufacturers use color dies that do not come off. You can look into some of that from this list above.