Improve Your Health & Fitness: 12 Best Jump Ropes Reviewed for Great Exercise Routine
Once upon a while, choosing the best jump rope was simple. You could choose between the beaded or leather model. Nowadays, rope jumping is a popular sport that has seen a rise in popularity. There are many styles and types of ropes available to make your head spin. Seriously!
Jump rope is not only a great conditioning tool but also has many other benefits. They have some secondary benefits. They increase your shoulder strength, balance, coordination, and flexibility. You can also increase your agility and vertical jump if you do the exercise at high intensity. They are a very popular choice among boxers and basketball players who value endurance and quick feet. Also, they are very popular for cardio routines. In addition, these ropes can be easily used in your home gym.
As an exercise equipment, jump rope can get you started, but it's important to invest in a high quality rope if you want to improve your jump speed or try more difficult routines such as CrossFit double under or crossing.
In this article, we have discussed the finest jump ropes that can work as your workout inspiration. We have added a comprehensive buyer's guide to make the best decision after you have been given all the essential information. We hope that you find the perfect rope for you.
12 Best Jump Ropes Reviewed: Our Top Picks
Let's look at some of the high-quality jump ropes that are available in the market right now. Remember, this is not a definitive ranking; rather, it's a collection of different types of jump ropes with distinct features and functions.
Best jumping Rope Overall
CrossRope adds extra weight to your jumping rope training with its simple clip system. It allows you to switch between light ropes (green, one-quarter pound) or heavy ropes (white, half a pound). You can hold on to the handles even when you are sweaty because they are heavy-duty.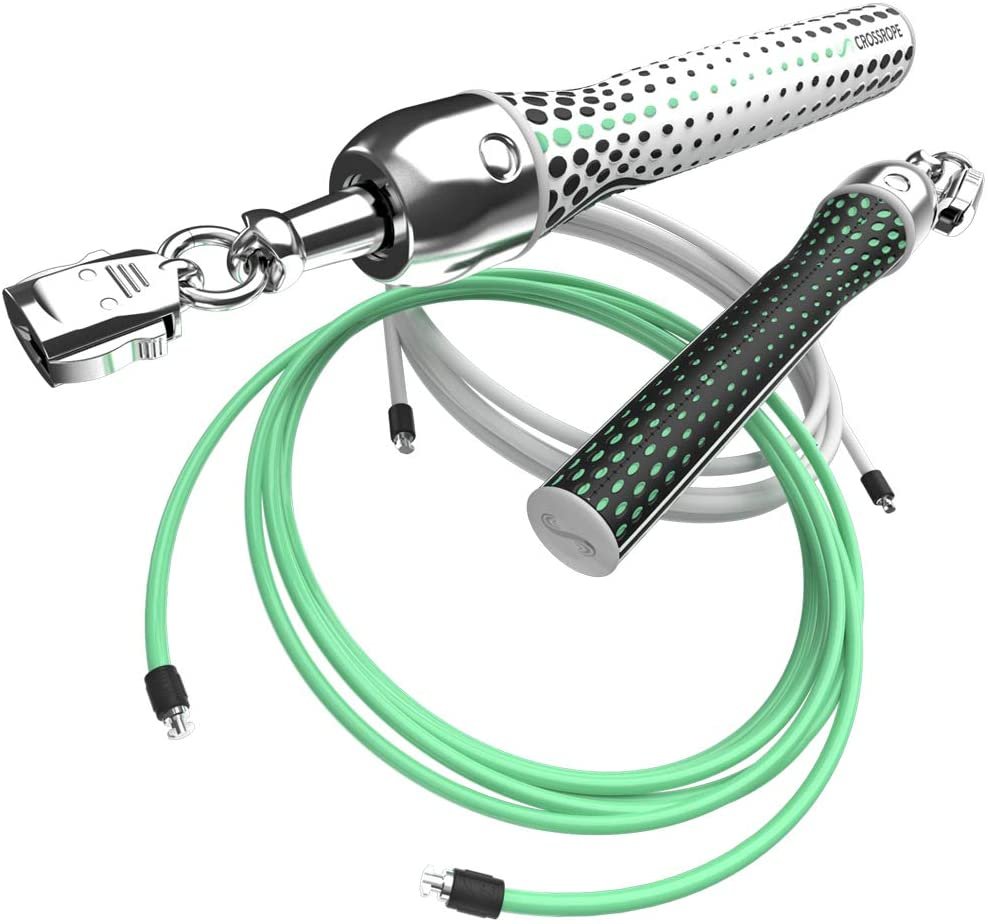 You can download an app that will help you find routines to keep your body moving. You don't need to be plugged in to do a challenging workout. You can do a split-second workout by switching between the ropes of a drop set.
Best Budget Jump Rope
This rope is a top seller on Amazon, and for a good reason. The rope is protected by a high-quality ball bearing system that prevents twisting, winding, or bending. It's durable and made of braided steel wire rope coated with PVC. This allows it to withstand wear and tear outdoors.
You can adjust the length to make it 6 to 9 feet in length. For better grip and comfort, the rope's handles are covered in memory foam.
Best Jumping Rope for General Fitness
This budget-friendly jump rope is easy to use. It has a good comfortable soft grip and can withstand the most difficult surface.
High-quality ball bearing system makes jumping smooth and protect your shoulders and wrists from injury. You can now take your workouts anywhere you want and not miss a beat. The rope's cable has a soft texture that will be gentle on your shins.
Best Tangle Free Jumping Rope
This is what it looks like. A jump rope that doesn't have a rope. This one is for fitness freaks.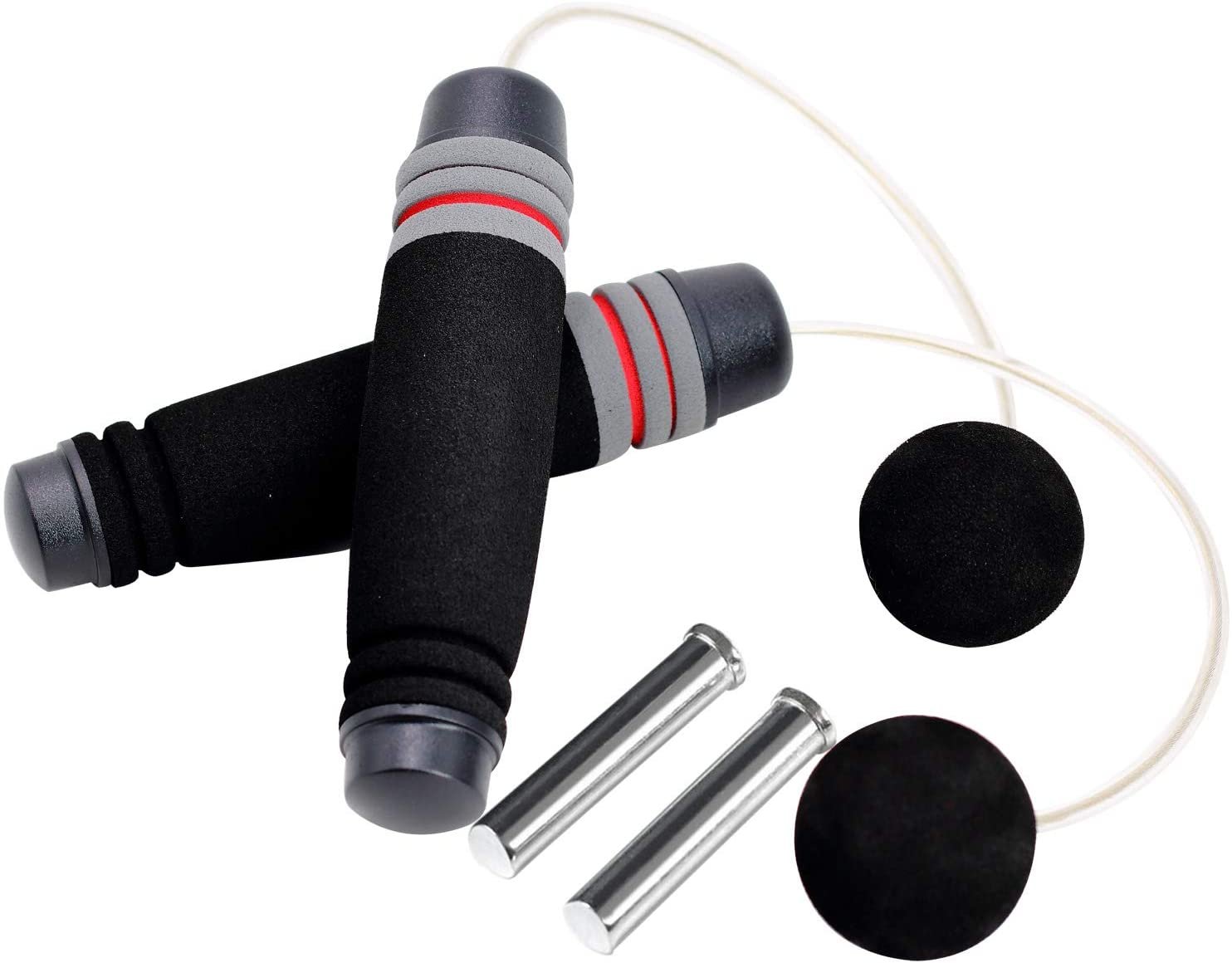 CyberDyer's rope is made up of weighted handles and short leads that mimic the feeling of skipping with real ropes without actually having to swing one. Although it sounds strange, the CyberDyer 'rope' could be a great alternative for those who don't have much space to work. Although you won't be able to achieve the same level of coordination as with a rope. Plus, you won't have to worry about getting tripped up.
Best Speed Jumping Rope
This sturdy option is ideal for CrossFitters who need to perform quick spins. The adjustable rope is stable thanks to its sturdy handles and four-bearing connection.
You can very easily adjust the length to suit your needs. You can beat it all you like; WOD Nation offers a lifetime guarantee. It will surely increase your jump count. And it will go gentle on your high knees.
Best Heavy Jumping Rope
A heavy rope such as the Ropefit is a great choice if you are looking to improve strength and increase burning fat. This personal trainer is a heavy-duty cable that can help you burn up to 1000 calories per hour and lose weight faster. This eight-pound cable will make it easier to reach your weight loss goals. It's similar to skipping with a gallon of milk attached to a regular-length rope.
RopeFit uses a tough Poly Dacron cable. This is the same material that you'll find in battle ropes at the gym. To suit your needs, you can choose between 1.5" or 2" thickness cables. There are two length options.
Best Freestyle Jumping Rope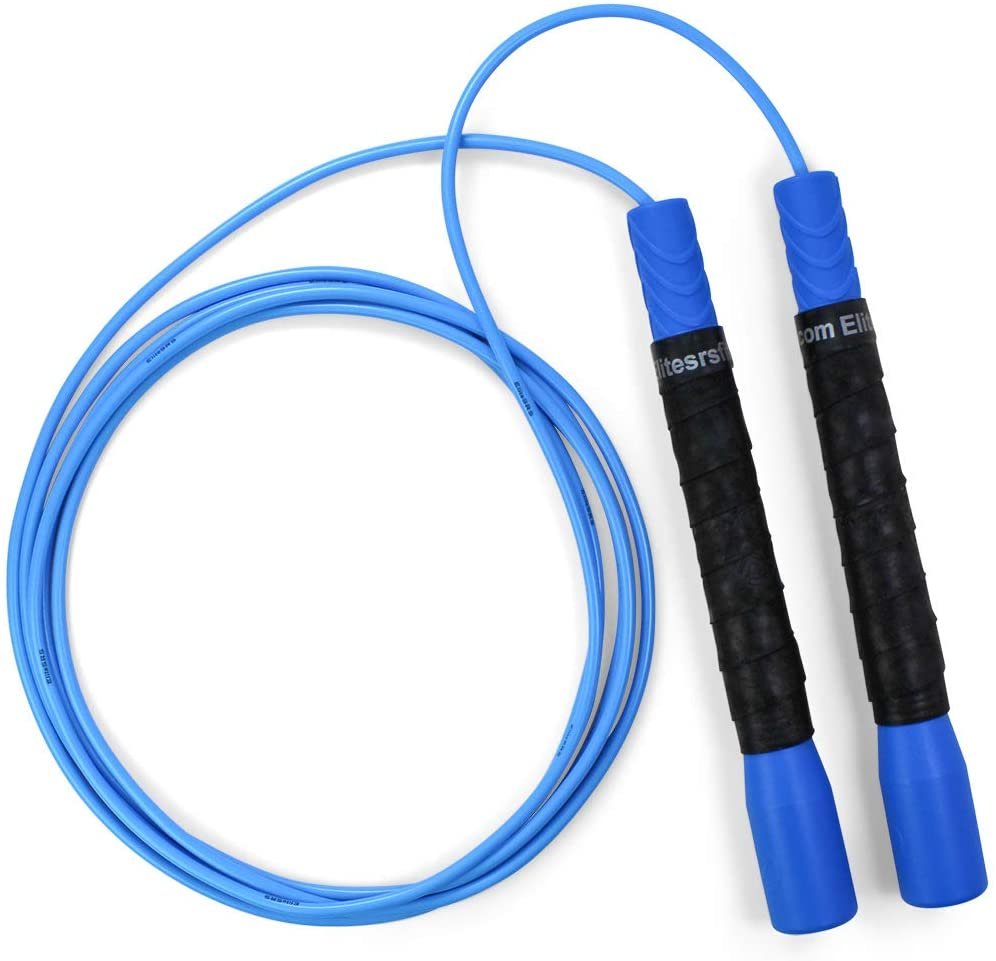 The EliteSRS Elite Pro Freestyle has longer handles than the XYLsports rope's 5 inches. This makes it easier to perform tricks like crossovers and behind-your-back moves. Jumpers with longer hands or wider shoulders may find the extra length more comfortable. Although the Elite Pro Freestyle's PVC Cord is outdoor-rated, you might be surprised to find many nicks after only 100 jumps on the pavement. However, it would be quite time-consuming to get it used out.
Best Smart Jump Rope
This high-tech jump rope makes it possible to simultaneously count and jump. The LED lights built into the jump rope display the number of jumps, creating an illusion that the numbers are floating in midair. The rope provides just enough distraction to help you forget all the pain. It's not all bad, is it?
The rope can be synced with your smartphone via the compatible app. This allows you to track reps, and even compete with friends in jump-offs. A single sync system can store up to 100 sets of fitness stats. The rope is available in four colors: black, gold, silver, and red.
Best Weighted Speed Jumping Rope for Athletes
You probably thought that rope jumping is child's play. That means you haven't used Sonic Boom M2 yet. This rope is for serious athletes.
While the silicone grips are comfortable in your hands while you work up a sweat, the two 10-foot adjustable cables allow you to find the right length to reach your goals. This rope is great for beginners and seasoned skippers alike, thanks to its patent-pending ball-bearings.
Best Jump Rope for Beginners
Buddy Lee's Super Sonic Jump rope comes with an O-ring swivel, making it nearly impossible to tangle. This is a specially designed tool to assist you in achieving double unders. This is a good jump rope for beginners.
The rope is adjustable in length, and it can be used by anyone who is 6'5″ or more. Your height will determine the proper length of your rope. However, it is better to start with a longer rope as it allows for slower and smooth rotation. As your jumping becomes more precise and faster, you can begin with larger, more flexible circles. You can then reduce the length of the rope. When your technique improves, the Buddy Lee rope can be a great option.
Best Strength Training Jumping Rope
Proud Panda Heavy Rope looks a lot like battle ropes. These ropes have a three-strand, thick polymer synthetic fiber that is super durable and heavy. It has a weight of 3 to 3.5 pounds to help you build endurance as well as muscle. This rope is designed for a power workout. You can buy different lengths of this rope depending on your height.
The user's everyday life is made simpler and more pleasurable by the design of the GoxRunx Jumping ropes. This pair of jump ropes made of steel wire is your safest bet if you want to keep working out even if the weather turns unpleasant. The GoxRunx Jump Rope is the greatest choice for you if you are looking for a robust, dependable, and powerful jump rope that will assist you in maintaining your fitness levels.
The jump rope's durable construction—thickened braided steel wire with a PVC coating—means that it can be used for a very long time. If you happen to be working out on a rainy day, you won't have any trouble cleaning these lightweight ropes because they have a PVC finish. It is not going to break quickly, and it will make your training experience much easier and more enjoyable. This jumping rope is suitable for use both indoor and outdoor.
The anti-dust ball bearing mechanism in the jump ropes makes them more durable and stable while also making them faster and smoother to use. Because of this feature, you will have no trouble spinning this jump rope through the whole 360 degrees. In addition, you won't have to be concerned about the cable becoming twisted or tangled while you're rotating it.
These fitness ropes are fantastic for boxing, mixed martial arts (MMA), and cross-training because they are suited for all skill levels. The length of the jump rope is 9.8 feet, making it appropriate for use by women, men, and children of any age. You may easily adjust it to fit your height by trimming off any excess length, since it is very easy to do so. However, if you cut off the surplus rope once you have determined the appropriate length, you will no longer be able to share it with many people of varying heights.
You will find that the soft memory foam anti-slip grips are a great addition to your exercise. They will encourage you to take your rope to any new terrain, where you will still find the same combination of enjoyment and comfort. If you get a set of two ropes, you have the option of using one of the ropes indoors and the other outside, which will assist you in organizing your exercise supplies and maintaining a tidy environment.
Pros
Allows for a smooth rotation with no tangles
For ease of use, has a length that may be adjusted
A pack of two ropes
A pack of two ropes
Comfortable EVA foam handles
PVC coating on the steel wire makes this rope more durable
Ideal for all levels of skills and trainings
The anti-slip design of the handles
Lightweight
Cons
The adjustment cannot be reversed
The handles have durability issues
Best Jump Ropes Buying Guide
In order to get the most out of your jumping rope routine, you need to consider the following guide that will be beneficial for you.
Types of Jump Ropes
Before deciding to buy a jump, first, you need to know about all the different kinds of jump ropes that are out there. Let's start.
Basic Jump Rope
These basic jump ropes are for those who want to learn the basics of jumping rope. These are cost-effective and can provide a great workout. Basic jump ropes are heavier than speed ropes, but they're lighter than weighted ones. These jump ropes are typically made from PVC plastic and have rubber or foam handles for better comfy grip.
Speed Jump Rope
Speed jump ropes are named for their purpose. Speed jump ropes can be light and fast. Speed ropes are manufactured from a thin vinyl cord. They can be used indoors to avoid breakage on rugged surfaces like pavement. Because of the speed and intensity of these workouts, they can be very intense. These jump rope workouts are great for anyone looking to improve footwork or build strength.
Weighted Jump Rope
Jump ropes that are weighted can not only give your arms a workout but also strengthen your shoulders. Extra weight means more effort and energy. The added resistance creates more pressure on your shoulders while you rotate the rope. Weights typically range between one and six pounds. Although weighted jump ropes can be preferred by more experienced jumpers than beginners, they are also available for beginners. These ropes are slower than other speed ropes, so novice jumpers can concentrate on timing and proper form.
Beaded Jump Rope
Beginners can use beaded ropes (also known as segmented jumping ropes). These ropes make a loud sound they touch the ground, so beaded ropes are often associated with rhythmic jumping competitions. The heads' inner nylon cord is covered, and these beads are known as "The Hidden Cord". Although the rope isn't heavy, the beads add weight and prevent tangling. You can use this jump rope indoors or outdoors.
Materials of Jump Ropes
The material is a significant feature of a rope. So, it's worth paying attention to. Let's look at different materials of jump ropes.
Cloth/Fabric
The most modest and most affordable jump rope you can own is a cloth jump rope. These ropes are usually made from nylon cords and braided cotton. Because it is a lightweight rope, you can very easily use it for jumping and skipping. These ropes are suitable for indoors as they can wear down when used outside regularly. The lightweight rope is great for beginners and less painful if you miss a jump. As you improve your skills, you will need a more challenging rope to push yourself further.
Leather
Leather ropes are rarer than types of material that make jump ropes. Leather jump ropes are quieter than a beaded one and don't weigh as much as a weighted one. Because the cord is thicker, it's less likely to tangle. Because of its sturdiness, leather can be more expensive than other ropes. These can be used indoors or outdoors on any surface. These jump ropes are a great choice for beginners, but they can also be used by jumpers of all skill levels.
PVC and Vinyl
A vinyl cord is the most common speed rope, and it has been a PE Standard for years. It is an excellent option for beginners. This will also let you do more high-level jump roping. It is a great choice for groups with many participants. These ropes are best for indoor use as they can be easily damaged by concrete and other hard surfaces. However, they can also be used outside. You can adjust many versions by simply tying a knot below the handle. However, the thin cord made from PVC can also cause more problems with tangling. Athletes use these ropes in training because they allow for the most turns per minute and provide a high-intensity jump rope workout.
Plastic
Plastic is usually used in beaded jump ropes. The plastic beads are strung on a short piece of cord which can be either cloth or vinyl. As the rope is swung between different jumps, the beads can be of different colors. Plastic jump ropes can be as affordable as cloth ropes. Although these ropes are fun to use for a limited period, they are not recommended for heavy jumping. These ropes can be difficult to use; like cloth ropes, they don't turn smoothly due to their weight distribution. These are ideal for outdoor and double-dutch beginners.
What to Look for While Buying the Best Jump Rope
Appropriate Length
The rope's length will depend on your height and what kind of exercise you are doing. The rope should be at least long enough to reach the ground at your feet and swing over your head. When you are a beginner, it is crucial to allow more space between the jump rope and your head as it passes above you.
Jump ropes may be a few inches higher than the head for those who are interested in speed. An average height is between 6-12 inches above the head. This number can be reduced slightly by speed jumping, but beginners and freestyle jumpers may increase slightly.
You can adjust many ropes by either using a mechanism at your handle or knotting them under your grips. Keep some extra rope in your collection.
Rope Weight
Your skill level will determine the weight of your jump rope. This topic is not something that beginner jumpers are familiar with and can cause frustration. To clarify, when we refer to rope weights, we mean the actual rope weights.
Many jump ropes you will find only have weight in their handle. It is futile. Proper form and technique will ensure that your arms move very little. This eliminates the potential benefits of the handles containing weight. You shouldn't hold 1 lb handles at your hips. This gimmick is not for you.
Speed jump ropes are the most popular on the market which is designed with speed in mind. These ropes are extremely light and easy to handle. Because the rope doesn't give you feedback or feel, it will take you a while to master a speed rope. It can be difficult to feel where the rope is in its rotation around you. This makes it hard to decide when to jump or how fast it is going. Advanced jumpers with a good touch and speed are the perfect candidates for these ropes.
For beginners, the proper weight to learn with a jump rope is around 1/2 lbs. This weight gives you a great feeling and allows you to easily see when the rope is coming towards your feet so that you can jump. All levels of jumpers can benefit from a heavier rope.
From a fitness perspective and as a jump roper, you should keep your options open. To improve speed, agility, coordination, use the lighter ropes. However, if you want to increase your strength, use heavier ropes.
There was no simple solution to this problem in the past. You had to look for different weighted ropes and then buy them individually. It is no longer the case. There are ropes available in the market whose weights are easily adjustable.
Ease of use
Jump ropes should be simple to use straight out of the box. As long as you know your rhythm and timing, jump ropes can be very easy to use. However, there are many qualities a jump rope can have to make it easier to use. The first is how comfortable the handles are in your hand. You should look at the flexibility of ropes. Ask yourself: do they rotate easily on the handle? And do they get tangled too easily? Do they come with a gym bag?
Final Thoughts
These are a few of the many jump ropes you can choose from if you're looking to incorporate jump ropes into your exercise routine or if you need a jump rope for your CrossFit program.
Jump ropes have many great benefits, but there are also cons. Do your research to find the most suitable jump rope for you. Consider your body, goals, and exercise plan. Jump ropes can be dangerous for beginners. Casual users provide some feedback all the time. Get advice from a certified personal trainer. Also, you can write to us for more information and suggestions (data rights reserved by our privacy policy).
You don't always need speed; you have to find one that works for you. You can always go for an adjustable jump rope that jumps smooth. Also, think about what to do with the excess rope or a rogue rope.
Remember to consider the material. Some ropes should not be used on rough surfaces like concrete, dirt, pavement, and sand. On the other hand, Coated jump ropes may prove more useful for users who exercise in different environments such as the beach or driveway.
This is where the key lies: map your life and how you train. Find out where and how you use a jump rope. You may have your own preferences. Also, buy a carrying bag to carry the rope; you'll thank us later.
You should ensure that your rope is suitable for your needs. You are now ready to take your fitness training to the next level by choosing a rope that suits your lifestyle.
FAQs
Are jump ropes made of aircraft-grade aluminum?
Ans: No, they are not.
What jump ropes do boxers use?
Ans: Boxers use both speed rope and weighted rope. They use speed rope to build flexibility and weighted rope to build strength & muscle.
What are the benefits of using a jump rope?
Ans: Jump rope has many benefits:
Stamina increases
They are great for cardio workout
Tone upper and lower body muscles
It is effective in weight loss
Increases and strengthens bone strength
Increases agility and balance
How much space do you require for jump rope exercises?
Ans: You should have a ceiling at least nine-ten feet high. There are 2 feet of space between you and the ground.
Can I build abs by jumping ropes?
Ans: Jumping ropes alone will not give you six-pack abs. You need to do other exercises that will directly impact your abs.
Can you use weighted jump ropes if you're a beginner?
Ans: Yes. Weighted ropes can be more beneficial for beginners than standard ropes. The more weight, the better.
Is a jump rope routine good for the heart?
Ans: Yes. Jump rope exercise keeps your blood pumping and improves your cardiovascular health. Jump rope training is a great way to keep your heart healthy and your cardiovascular system in good shape.
What workouts can you do with a jump rope?
Ans: You can lose weight by doing a high-intensity exercise with jump ropes.