8 Best Bungee Cords to Secure & Organize Your Things
Bungee cord is the general name for a cord that has a core of elastic strands covered in a woven sheath. This type of rope is also known as 'Shock cord' or 'elastic cord'. The best bungee cords might be the most useful item you have around your house, along with duct tape.
The core contains elastic strands. It can be made from natural rubber, manufactured rubber, or a combination of both. The intended use of the cord will determine the material used in the inner cord.
You can choose from many different materials to make your woven outer shell. Cotton, polypropylene, and nylon-these are the materials that could be used as an outer sheath to protect and preserve the elastic core. The outer sheath facilitates uniform stretching along the entire length.
There are many types and sizes of bungee cords. Mini bungee ropes are ideal for small jobs such as storing camping gear or protecting your garbage can. For large items, heavy-duty cords are available, and there are longer options.
Most bungee cords come in a variety of materials, including metal or carabiner style hooks. Some even have a ball at their ends. For extra strength and security, metal or metal-core hooks make a great choice. There are bungee cords that can withstand water, UV, and friction for outdoor use. The best bungee cables are durable and strong. They also retain their elastic properties over time.
For your service, we have reviewed some of the finest bungee cords available in the market. We have also compiled the best buyer's guide for you so that you can decide for yourself- which cord meets your specific requirements.
8 Best Bungee Cords Reviewed: Our Top Picks
Let's review some of the top bungee cords that are available in the market. Whether you are using a cord for securing camping gear or organizing your basement, you will definitely find a cord of your necessity here.
Cartman makes some of the most durable bungee cords. These bungee cords are made from premium multi-strand rubber cord, which is UV resistant and can withstand any weather conditions.
The whole set of bungee cords has 5 different lengths: 10", 18″, 24″, 32″, and 40″. There are four 8-inch canopy ties too. These bungee cords incorporate 3.5mm steel metal hooks. The hooks are also plastic-coated, which makes sure to prevent scratching.
These bungees are extremely versatile and very sturdy. They can be used at home or in your car to carry household items, camping gear, or other stuff over motorcycles.
The manufacturer offers many accessories for camping, including tie down and straps clip. You can get ratchet straps for industrial use to protect heavy cargo during transit.
Pros:
Slow to decays and deteriorations
Achieves most do-it-yourself operations
Secures items to vehicles in a proper manner
The rubber makeup provides superior strength
Secures your items gently and firmly
Plastic coated hooks
Cons:
Heavy duty cords are not included
What if all you really need is a cord that you can use around your house? This cord is what we recommend you choose. It's multifunctional and can be used in a variety of settings, including the home, at home, or for recreational purposes.
Kotap's set of bungee cords are a great option for recreational and home use. The pack contains 10 adjustable bungee cords. They adjust to 10 inches from the hook and can reach a maximum length of 32 inches. This simple set can be used for both light-duty and household tasks. These cords are lighter than heavy duty cords and can be easily twisted to suit a wide range of tasks.
Each cord is 8mm thick and comes with a hook at each end. The non scratch coating protects the metal hooks from scratches. This set can be used for everything from household storage to secure your hiking backpack.
Pros:
Adjustable length and tension
Due to its large diameter, it is strong and reliable
Different types of loads can be handled
Resistant to decaying or abrasion
Locally manufactured using the most current technology
Cons:
Not suitable for industrial application
You are looking for short-term solutions that aren't too complicated? You should consider using this mini-bungee cable. This cord is ideal for everyday use and can be used in your ordinary home.
This inexpensive set includes eight mini-bungee cords. Evey cord features a durable, premium-grade rubber inner core. The woven outer sheath can withstand repeated outdoor use and is UV-resistant. The 10-inch cords have strong metal hooks made from dichromate steel that resist warping when tension is applied.
These cords come in a range of bright colors and are very eye-catching. They combine utility and visibility for various household jobs.
These bungee cords can be used around your home to do everyday tasks such as organizing, securing, or performing other small tasks. You can utilize the cords indoors to store items in the garage and to organize workshops. They are UV-resistant, so they can also be used outside for camping, attaching a tent, and other purposes.
Pros:
Numerous applications
Easy to use, light and mobile
A great cord for camping and home use
Made from the highest quality materials
Cons:
Available only in one size
SPIDER's two-pack set is designed to replace multiple fixed-length bungee cords. The cords have a length range of 7 to 70 inches and a durable, abrasion-resistant outer cover that surrounds a premium rubber core. For safe handling, the adjustable hooks have been fiber reinforced and UV stabilized.
Two Spider-Lock hooks are quick and easy to engage, tension, and release anywhere along the attachment cord. This creates a variable-length bungee line that is always perfect.
Hooks are easy to adjust, thanks to their patented locking system. To adjust the hooks, you don't need to use any knots, ties, or mechanical ratchets. Simply slide the hooks to the desired length and then pull the cord to lock them in place. The length can be adjusted while the bungee rope is still in use. These bungee cords can be used indoors or outdoors.
Pros:
Heavy duty design
Adjustable length ranging from 7″ to 70″
Ingenious hooks
Higher usability
Water resistant cord
Carabiner style hooks
Cons:
Carabiner hooks are not long-lasting
XSTRAP Bungee Cord is stronger than conventional cords. This bungee cord has a plastic finger hole that is comfortable for safe handling. You can stretch the cord with the finger grip without it slipping, which is a common safety concern for bungee cords. Each hook is made of strong metal and has a protective coating that prevents scratches.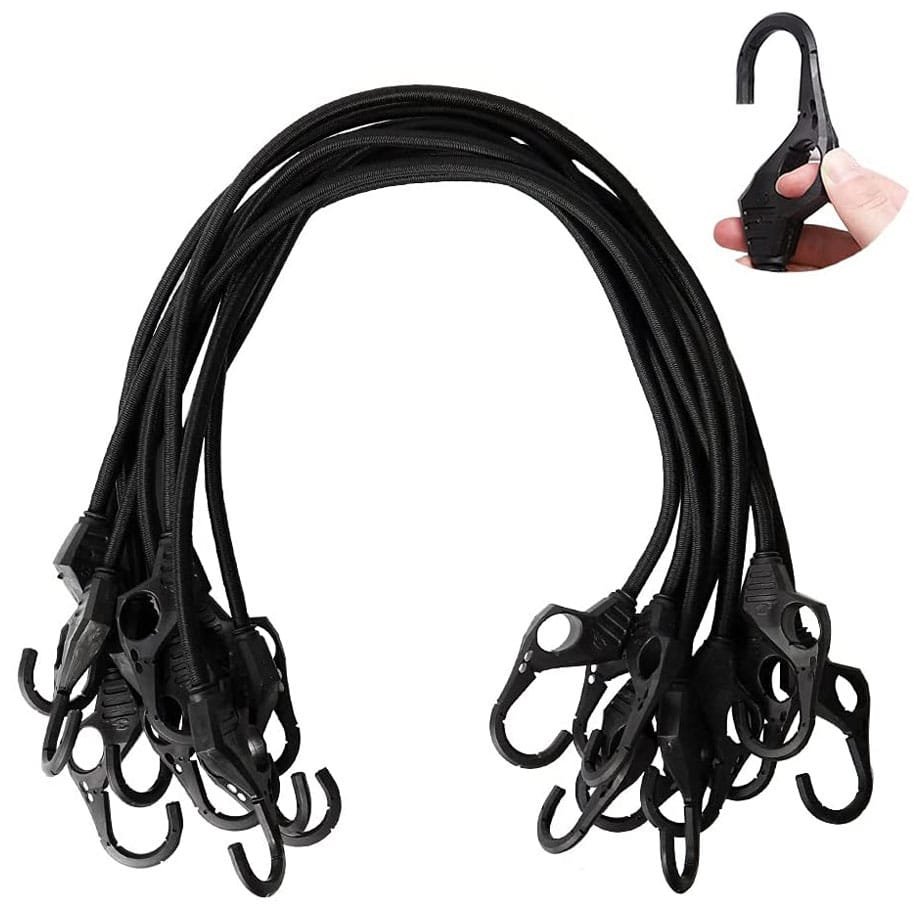 The set contains 10 cords that range in length from 32 inches to 48 inches. Cords are produced of a cross woven rubber and latex mixture that is UV-resistant and won't become brittle or thin over time. Cords can be used indoors and outdoors in all climates, even on windy days. The set comes with a zippered carry case that can be used for storage and transport.
Pros:
Polyester made cord
Suitable for heavy duty outdoor use
Hooks have a metal core
Finger hole for easy handling
Comes in multiple lengths
Comes with a carry case
Cons:
Cannot wrap larger objects as it comes in shorter lengths
According to Chicago Tribune, Strapright Bungee Cord is the 'best of the bests'! Why so high praise? There are some reasons why this cord is attracting such huge compliments.
These heavyweight 60″ bungee cords can be used to secure larger, longer, and wider items in a matter of seconds. The 60-inch long bungee ropes are perfect for all jobs. They can be used as trailer tie downs, securing sheets, and more. You can double the length of the strap for smaller jobs.
The straps are finished with carabiner clips at both ends, which is great for usability. It clips to more fixing points thanks to its wide latched design and will stay strong. Extra-wide hook openings measure 0.67 inches (17mm), making them ideal for difficult fixing locations.
These heavy-duty bungees have a durable inner core made of high-quality latex and a UV-treated outer. Most bungee ropes available on the market today are made of inferior rubber and can only pull up to 8 pounds. The super-strong bungee cords we offer can pull over 20 pounds, making them an excellent choice for tie downs of heavyweight objects.
Pros:
Carabiner clips as hooks provide extra security
Longer length cords
Stronger than most ordinary bungee cords
Great stretching capacity
Cons:
All cords are of the same length
Are you juggling many tasks? You need the cord to adapt to your needs to complete all kinds of tasks. Fortem Bungee cord is a good choice as it can be used for a range of 18 to 40 inches.
Each strand is made with a cross weaved rubber/latex mixture. This arrangement makes the strands strong enough to withstand pressure and high strength.
Some plastic coatings can be found on the outside of the strands to protect them from harmful ultraviolet radiation. These coatings protect the cords and prolong their life expectancy.
The cord is also supplied with a cargo net as an added bonus. This cord can be used to haul heavy and long cargo. These will all be possible with lower effort than normal.
Pros:
It can meet all of your travel needs.
Protect your belongings from scratches
Excellent performance in severe weather conditions
The heavy-duty design gives you the strength and comfort to do a good job.
Cons:
Requires extra maintenance
To begin, it is important to point out that it is a collection of really helpful items that you can use to fasten awnings, camps, tents, tarpaulins, or any other structure that is situated in an outside environment.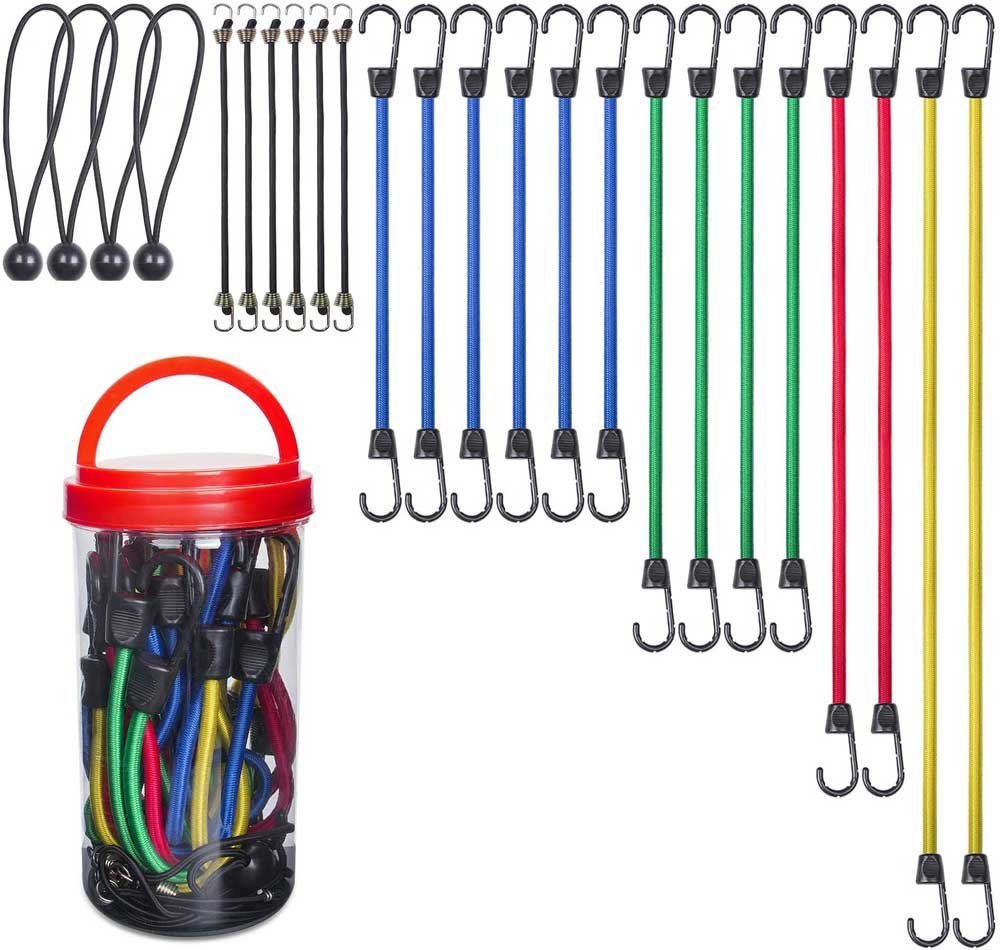 Additionally, you may install any of these components on bicycles, motorbikes, vehicles, various trailers, lorries, or even just use them to protect cargo in automobiles.
Because of its internal core, the product you purchase will give you premium material. This is because the core is made of natural latex, which offers elasticity in excess of what is required.
In addition, this bungee cord is a collection of parts that offers performance and toughness that is increased by fifty percent in comparison to other brands of similar products that are now on the market.
On the other hand, it is a product that contains UV-resistant polyester, which allows prolonged usage both for outdoor use and indoor use, as well as vinyl-covered hooks that minimize damages on any surface. Both of these features contribute to the product's overall durability.
As an added feature, they provide several different sets of pieces that are color coded. This allows you to distinguish between the various groups of components based not only on their length but also on the color they are rendered in.
Moreover, a clear jar is provided for you to use in order to preserve the storing and arrangement of each of your individual parts.
Six pieces of cords measuring 18 inches, four pieces of cords measuring 24 inches, two pieces of cords measuring 32 inches, two pieces of cords measuring 40 inches, six pieces of mini cords measuring 10 inches, and four pieces of ball bungee cords measuring 8 inches are included in the package.
Pros
A wide range ofapplications
Strong inner core
Material of the highest grade
Does not leave scratches on the skin or any other surface
UV resistance
Comes with hooks that are wrapped with vinyl
Easily transportable and convenient glass jar
labeled in colors for quick and easy organization
Cons
The hooks are not strongly attached
Durability issues while used outside
Things to Consider While Choosing Bungee Cords
Selecting the right bungee for your particular need could give you a headache for such a simple tool! It is important to ensure that you purchase the correct bungee cords according to your requirements, including length, stretch, and connectors. You do not need to spend hours researching online.
Elongation Rating
Bungee line "stretchiness" is known as the extension rating, and all ropes have one. It is given as a level of the line's standard length. For example, a 5-foot bungee line with a prolongation rating of 100% can stretch to 10 feet in length. That equivalent string with an extension rating of half can stretch to 7.5 feet. To make things easier, just keep in mind that the thicker the bungee string, the more strength it has, the less stretch it will have. On the off chance that you require exceptionally stretchy bungee strings, don't get the greatest, thickest ones you discover on a gas pump.
Uses
Your expected use will direct what sort of bungee rope you need and how long it ought to be. Be sure to check its properties so that it matches your particular need.
Camping
You can make brilliant camping accessories out of bungee cords. They can be used as clotheslines between two trees, or you can use them for a temporary tent. These cords are helpful in tieing tablecloths down so that they do not get blown away by sudden air. You can also secure the protective plastic, which is keeping flies away from your freshly captured trout. The uses of bungee cords in camping are almost limitless.
Carrying
One of the most pragmatic uses for bungee lines is to help you carry inconvenient things. They make great handles for bundles of things. For instance, you can wrap your bungee lines around a pile of textbooks or a yoga mat to keep everything in its place for your excursion.
Securing
This may be the bungee rope use that most consumers know about.
Bungee cords are precious for securing things down for transport. The most universally known example of this is utilizing them as straps for things on top of a truck bed. From timber to sleeping pads, bungee straps can keep your things secure while moving them on your vehicle, truck, or van.
Organizing
Bungee cords can be used in organizing a lot of things; hanging a spare helmet, securing books, hanging extension cords, keeping storage boxes sealed, baby-proofing drawers. You can be really creative in using these cords when you need to.
Exercising
Bungee cords can be used in various forms of exercises such as cardio and resistance training. You can even create a makeshift jumping rope out of these great strings. You will find numerous methods on the internet regarding the use of bungee cords in exercising.
Features to Look for in a Bungee Cord
Materials
The most commonly used materials used in making the inner core of a bungee cord are different kinds of rubber. However, it's the outer layer of the cord that determines its usability. Some protective layers are UV resistant, some can withstand friction, and some sheathings are water resistant. Select a bungee cord based on your specific need and look for the material properties of those cords. Suppose you are using a cord for outdoor activity. In that case, UV resistance and water resistance should be at the top of your requirements. In another case, you appreciate the abrasion resistance feature if you are using the bungee cords against rough surfaces.
Colors
Bungee cords are available in hundreds of different colors and patterns. You can buy them in distinct colors to keep them separated by their intended usage. This will come in handy, as you will easily be able to identify and pick the specific cord from your garage or vehicle's trunk if it's color coded.
Length
The shorter bungee ropes are great for indoor use and securing small items together. While backpacking, you could attach your items to your pack with a small bungee cord to keep them all together.
Longer cords are better if you plan to use them to secure furniture or wood on your trailer. You have numerous choices when purchasing bungee cord spools that can be cut to custom lengths to your requirements. When deciding on length, be sure to consider the elongation rating.
Diameter
Any bungee cord's width can be used to determine its strength. The cord with a larger diameter will be more durable than the ones with smaller diameters. It is crucial to ensure that the cord you choose is strong enough. A thicker cord will be better than one with a thinner diameter.
Style
Bungee cords can be made from a variety of colors and patterns to help with identification and length. Sometimes, the pattern and color are chosen to align with a specific theme.
You might find different cord sizes or colors in a package. This can be a great advantage as you can easily classify the cords and choose the right one for your application.
Connectors
Most bungee ropes<