The Best Rope Hammock Offering You the Ultimate Relaxation – A Comprehensive Buying Guide with Reviews
The best rope hammocks are a terrific addition to any residence. They are great for relaxing, reading, napping, taking to the beach, or even using at home. Being comfortable and long-lasting, it has a classic yet boho style. That's why so many people adore them.
But there are so many options for rope hammocks. If this is your first time shopping for rope hammocks, you may be wondering how to choose the ideal one for you, a family member, or a friend. More importantly, what to avoid.
Don't worry. This article will explore the five best hammocks currently available on the market today for your convenience in narrowing down the list. We've also included a buying guide to help you search for a top-notch hammock with all the information there is to know. In the end, you will find the answers to some of the most frequently asked questions concerning rope hammocks on the internet.
Let's get started.
6 Best Rope Hammocks Reviewed: Our Top Picks
Rope hammocks are associated with palm trees and white sand beaches. While you don't need a beach or trees to enjoy a hammock, you will need a solid metal stand and materials to withstand outdoor weather.
Below, you will be introduced to our top picks for the title of the "best rope hammock." These hammocks can provide you with a lot of comfortable unwinding chill sessions in the wind for a long time.
The Original Pawleys Island Duracord rope hammock is a great pick. The DuraCord ropes are tough and durable to withstand practically any condition.
With the softness of cotton and the durability of polyester, the Original Pawleys Island DuraCord Rope Hammock has it all. This mixture protects the rope from rot, mold, and mildew.
This rope hammock is handwoven from 100% natural cotton or DuraCord yarns with precision twisting and balance.
DuraCord is dyed while spun, resulting in a colorful rope. Dura Cord, like a carrot, is the same color inside and out. Due to its high density (85 ft/lb.), these DuraCord rope hammocks stretch less and provide more stability.
Oak is naturally protected against fungus and insect infestation. Its oak spreader bars are repeatedly hand-dipped in honey gold marine grade varnish for an excellent aesthetic and longer outdoor life. The oak spreader bars are 1 inch thick, compared to most competitors' 7/8-inch spreader bars. Less rope is needed on thicker spreader bars, providing for a more secure hammock bed.
The Original Pawleys Island DuraCord Rope Hammock's oak spreader bars also feature countersink drilled holes. Countersink drilling employs a trumpet drill bit to create a hole with no hard angles, allowing the rope to flow through without being cut.
These Original Pawleys Island DuraCord Rope Hammocks are handcrafted by highly skilled weavers using the Double Latch Weave technique. Individual ropes of these Original Pawleys Island DuraCord Hammock pull against one other to form a lattice design, avoiding the need for knots inside the rope bed.
The Original Pawleys Island DuraCord Rope Hammocks come with two zinc-plated tree hooks. The zinc plating prevents rust and prolongs outdoor life. One-piece ring knot and chain secures chain to O-ring. This makes the hammock sturdier and prevents the chain from falling out.
It is worth noting that your Original Pawleys Island DuraCord Rope Hammock may appear shorter than advertised. However, natural stretching from initial use will soon bring your hammock to its full length.
Pros
A heavy-duty hammock with a maximum weight capacity of 450 pounds; fits more than one person
Eliminates the need for knots inside the bed because individual ropes pull against each other to form a lattice design and a tight weave
Sturdy DuraCorp construction offering less stretch with Double Latch Weave technique
Anti-fungal and anti-insect oak spreader bar
Comes with free extension chains
Zinc plated tree hooks to give the hammock overall longer outdoor life
Can withstand all weather conditions
Cons
Caribbean Hammocks company used polyester ropes instead of cotton while crafted this amazing rope hammock. This means it is far more resistant to the environment as polyester doesn't absorb water, so you could leave it outside during rain or store it at a beach house without worrying about deterioration or mildew.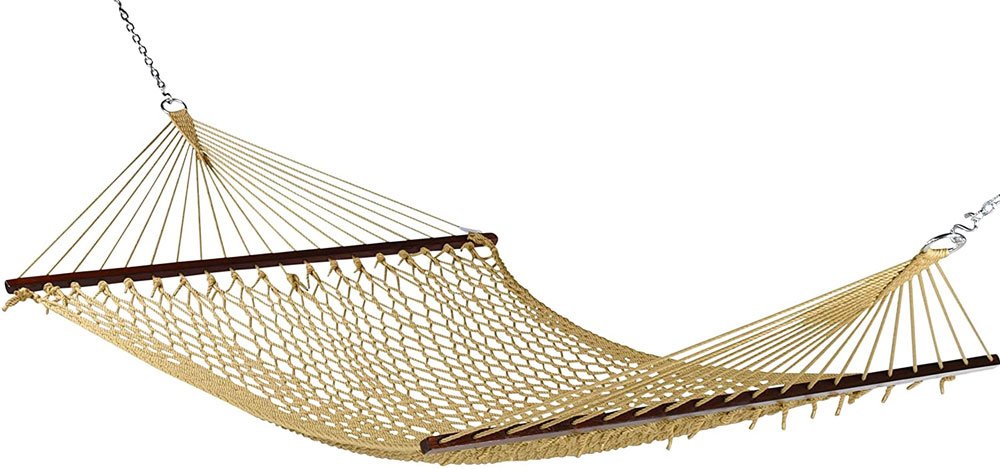 This Caribbean rope hammock features polyester fabric which is 8mm thick, making it more comfortable than standard polyester rope hammocks but not as comfortable as cotton rope hammocks. A solid wooden spreader bar opens up the Caribbean rope hammock.
The Caribbean rope hammock is 12ft long with a bed length of 6.8 feet and width of 4.7 feet in dimensions, with a 400lb weight capacity. It can be shared between two adults with more room to stretch. This hammock also has a one-year warranty, so you can note that it's good quality.
Pros
Comfortably fits two people
High-quality build materials with one year warranty
Resistance against mold, mildew, rot, rain, and ultraviolet rays
Sturdy construction with extra thick polyester to withstand harsh weather conditions
Available in a wide range of colors, including an amazing shade of blue and boho style tan
Cons
This hammock will impress you with its quality. An 8mm thick polyester provides optimum density without sacrificing extra comfort. The Castaway rope hammock will reduce your stress and rope elongation while providing added comfort. So, you will get a more natural, superior feel and supportive fit.
The distinctive weaving of this rope hammock makes it ideal for precision weaving. The individual rope pulls against one other, creating a lattice-like pattern. So, there's no need to knot anything inside the rope hammock bed.
The countersunk spreader bar holes lessen the friction between the wood and rope due to the hardwood spreader bar. Hence, the Castaway rope hammock features a sturdy and reliable construction for extended use. It won't easily break or damage, and you can use it for a long period.
These hammocks also include zinc plated hardware such as free extension chains, two tree hooks, and a hammock storage bag, eliminating the need to purchase extra tools for setup and storage.
Finally, there is a warranty term for a refund or replacement.
Pros
Very comfortable feel with the maximum density of rope
Sturdy and durable construction with industry-leading techniques
Available in both cotton and polyester ropes
The lattice-like design eliminating the need for knots
The 6.10 feet bed with 450 lbs. total weight capacity can easily accommodate two people
Comes with a storage bag, zinc plated hardware, and a warranty from the manufacturer
Cons
Takes a long time to dry
May need to buy separate two lengths of chains for hanging
This Cotton Rope Double Hammock can accommodate two persons because of its large size and 450-pound weight capacity. So, grab your loved ones and spend cozy time in a cool breeze.
The 900 feet of very thick and twisted cotton ensures that the rope hammock will last and serve you well. This hammock also has reinforced metal rings and finished hardwood spreader bars, which will endure longer and be more durable.
The rope hammock also comes with a handy carrying case for storing and transporting it.
The design and weaving pattern of this hammock will allow you to raise your body and relax completely. This will also provide you with full-body airflow and circulation. It won't sweat and add more pressure. You'll love it both indoor and outdoor!
Pros
Enhanced comfort features with the finest parts and increased support
Affordable price and offers great value for money
Includes reinforced metal rings and hardwood bar
Convenience in storing and transporting
Superior durability with sturdy build materials
A spacious yet lightweight design with an amazing weight capacity
Cons
Poor quality joints that wobble when swinging vigorously
You don't have to choose between a fabric or rope hammock with this great option, unlike the other brands. This Sunnydaze Cotton Rope Freestanding Hammock has it all.
This wonderfully relaxing hammock has a quilted mat and detachable pillow for backyard relaxation. Its braided 100% cotton rope base layer is also suitable for lounging.
This rope hammock is waterproof and rust-resistant, combining comfort and durability. The pillow and polyester pad of this hammock are also fast drying so that you can keep it outside.
The spreader bars flatten these hammocks so you can lie on them like a bed. Relaxation is easy, with a 52-inch breadth to stretch out on. Its 12-foot stand and 144-inch length make it ideal for tall people.
With so many colors to select from, you can match your hammock to your backyard's décor! The only drawbacks (according to the actual customers) are that the spreader bars are flimsy and the weight capacity is only 275 pounds.
Pros
Comes with a standing steel stand, a comfortable polyester bed, and a comfy pillow
Built with durable acrylic fabric and inner poly quilting to ensure its longer outdoor life
A lightweight hammock with two metal O rings and hanging chains, making it easy to assemble
Amazing portability providing convenience on trips
Exceptional look and available in 9 beautiful patterns for the bed
1-year manufacturer's warranty
Cons
Only 275 pounds of weight capacity
Poor quality spreader bars
We can't think of a nicer hammock if you're the kind of person who likes to lounge around all the time. It can be used in a variety of ways and can be paired with a variety of other essential accessories.
There are no weak points in any of the components or materials used to make it up. Even when exposed to extreme force, they will not break. They, on the other hand, provide consistent and dependable service to you at all times.
The hammock stand's overall effectiveness also sets it apart. It has everything you need for a camping trip in one easy package. As a result, utilizing it is a surefire approach to stay stress-free and save time.
They're made with durable cotton ropes that are hand-woven by hammock weavers with long-lasting thread. Relaxation and increased blood flow are two of the many benefits of using this rope hammock. Thanks to the mesh's well-ventilated design, your back will no longer get hot and bothered.
The most comfortable material for outdoor activities is the two-layer quilted polyester fabric with poly fiber stuffing. It won't go out of style even if you use it for many years. The pad is also detachable, making it easier to clean. In terms of comfort, a polyethylene filled head pillow is the best option. The pad will stay in place thanks to the reinforced ties.
With the 52-inch hardwood spreader bars, you won't have to worry about toppling over as you rest. This spreader bar has countersunk spreader bar holes, which help to reduce rope-on-wood friction.
It's a huge hammock, no doubt. The bed's dimensions are 76″ long by 52″ wide. In terms of length, the hammock cushion is 40 inches long and 8 inches wide. This sturdy hammock is meant to be shared with others. With a weight capacity of up to 475 pounds, you and a group of friends or family might rest in the hammock together.
You won't harm trees because the hammock includes a stand you can move around. Using strong gauge steel and powder coating, the 12 foot stand is built to last. It can be put together quickly and effortlessly without the use of any tools, and it can be taken apart just as quickly, making it an ideal hammock for travel.
Pros
Asoft pad which is detachable
Features a powder-coated stand
Incredibly strong polyester material
Setup is a breeze
Matching pillow that's soft and cushy
Rust-proofing
Safety measures are contained within
Colorful and eye-catching
The ideal size and capacity for two people
Cons
Prone to tipping over
Stands are short
Types of Hammocks
Hammocks come in various types, from those designed for camping on one end to those that serve as a place to sleep on the other end while also adding an artistic touch to your outdoor décor.
i. Rope Hammocks
Rope hammocks have an open weave style and are commonly constructed of cotton ropes. Synthetic hammocks are available; however, they don't have the same beachy appeal as conventional cotton hammocks.
These airy hammocks are ideal for hot climates since they allow for optimum airflow. Wooden spreader bars are included in some rope hammocks, which creates a flat laying area. Others feature a squishy, cocoon-like design that envelops the wearer.
DuraCord rope is a popular rope hammock material because it is extremely durable and does not easily wear. DuraCord rope hammock combines the durability of polyester with the softness and comfort of cotton in the rope bedding, a combination offering complete relaxation. Being the densest rope, DuraCord rope is resistant to fading, stains, mildew, and mold, and quick-drying and non-absorbent. The most notable difference is that A DuraCord rope hammock is more resilient than hammocks made of other materials.
ii. Quilted Fabric Hammocks
Quilted fabric hammocks have two layers of cotton or polyester fabric with padding in the middle. They're frequently reversible, with one side having a plain color and the other having a pattern design.
They're a safer option for families with children because they don't have any holes or gaps on the surface. Spreader bars are commonly found on quilted fabric hammocks.
Vivere Hammock, made with double cotton fabric, is an excellent example.
iii. Mayan Hammocks
Mayan hammocks are made of thin cotton or nylon thread and do not include spreader bars. Users can cocoon themselves inside the fabric due to its flexible and lightweight construction. Mayan hammocks are frequently vibrant and vivid, evoking their cultural traditions.
iv. Brazilian Hammocks
These hammock models are hand-woven from cotton fibers and have a thick and comfortable cover. The fabric's thickness makes it an ideal relaxation solution for cooler areas or winter months. Bright hues, sometimes with ornate fringe, are used to complement Brazilian hammocks. Spreader bars are not common in Brazilian hammocks. These hammocks are also prone to tipping.
v. Poolside and Seaside Hammocks
These sturdy poolside hammocks are resistant to moisture, fading, UV rays, and salt exposure. While cotton is used in some, Textilene, olefin, and Sunbrella textiles are the most UV resistant and dry quickly. You can have them with or without spreader bars.
vi. Camping Hammocks
These tree-hanging hammocks are often constructed of nylon or polyester. They are lightweight and portable, perfect for a camping trip. They can resist various weather situations, and many of them come with a mesh net to keep bugs at bay. These hammocks fold up neatly for storage on outdoor outings because they don't have spreaders.
vii. Rope Hammock Chairs
If you want the comfort and fun of a rope hammock but don't have the room for one, a hammock chair can be a better option. A rope hammock chair is often made of cotton rope or fabric, and it dangles from the ceiling of a covered porch or a low-hanging tree branch in the yard. They're, of course, a particularly fashionable option, with a variety of styles featuring hanging tassels or macrame fabric.
Patio Watcher Oversized Hammock Chair is a great example.
Buying Guide for the Best Rope Hammock
Outdoor rope hammocks are a terrific option to nap outdoors. Rope hammocks are a casual and comfortable way to relax. Choosing the brand of hammock that suits your needs and savings depends on several factors.
This buying guide will help you acquire this popular lounge equipment, from picking the best rope hammock for your space to learning about proper rope hammock maintenance.
Rope Hammock Material
The materials of a rope hammock depend on the ground of intended use and the style you like.
Because different types of hammocks are connected with different fabrics, we'll go through the characteristics of these materials first.
i. Cotton
Cotton hammocks are the most cost-effective and popular options among users and manufacturers. Cotton fabric is breathable, soft, and slightly stretchy, allowing it to adapt to your body pleasantly. The disadvantages of cotton rope hammocks include their low stain resistance and the possibility of color fading. It also collects moisture and dries slowly, making it more susceptible to mold and mildew than other materials.
ii. Nylon
Nylon is a lightweight synthetic fabric that lasts longer than cotton. It resists water damage and stains, and it dries faster, making it less prone to mold and mildew. Nylon is not UV resistant. Therefore, unless exposed to UV radiation, nylon retains its color well. It won't withstand direct sunlight and should be used in shady places.
iii. Polyester
Polyester fabric is a synthetic material that has a lot of similarities to nylon. The key distinctions are that polyester rope hammocks are less expensive, but they are UV resistant. The polyester material can also resist heat damage. It has a lesser strength-to-weight ratio than nylon, although it is still considered robust.
iv. Textilene
Textilene is a PVC-coated synthetic material constructed of high-strength polyesters. The fabric resists fading in the sun and is UV resistant. This synthetic blend is also cozy and simple to clean. This material dries fast and is resistant to mold and mildew.
v. Olefin
Olefin is a type of synthetic blend fiber manufactured from polyolefins like polypropylene and polyethylene. Stain, sunlight, abrasion, stain, sunlight, fire, and chemical resistance are all features of this material. The material dries quickly and is easy to clean, plus it is UV resistant so that it won't fade.
vi. Sunbrella
Sunbrella is a mold and mildew resistant synthetic fabric that is weather resistant. It's constructed entirely of solution-dyed acrylic. It's also UV resistant and fade-proof. Sunbrella is also stain-resistant, thanks to its moisture-resistant construction.
Size and Capacity
When it comes to comfort, length is less significant than width. If you want a single hammock, look for something that is at least 2-feet longer than your height when it comes to length.
The broader the rope hammock, the more intense the snug feeling when it comes to width. For this reason, many people believe it is worth investing in rope hammocks that can fit two people and using them alone.
The "carrying capacity" is a weight limit that varies from 150 to 500 pounds on all hammocks. Couples rope hammocks are designed to bear 350 to 500 pounds, whereas solo hammocks hold around 250 pounds. Jumping, swinging, and other intense activities will reduce the total weight capacity of your rope hammock, as well as diminish its longevity.
Weight
Weight is a key factor when you want to find hammocks for hiking and camping. Camping hammock made of synthetic materials can be as light as 7 ounces. Consider the weight of your selected suspension system, as tree straps, slings, ropes, and carabiners will add 10 to 15 ounces to the entire weight of the system.
Rope hammocks, which are frequently built for usage at home, typically weigh a few pounds more. Quilted fabric hammocks are the heaviest option, weighing up to 6 pounds depending on the fabric. If the hammock has spreader bars, the weight can easily exceed 10 pounds. Even though it may accommodate two people, a double rope hammock will provide more space and feel cozier when only one person uses it in outdoor adventures. You can also look for hammock with stand that can support greater weight.
Suspension System
Wooden spreader bars (or poles) walk the length of each end of many rope hammocks, keeping the rope hammock open when it's suspended from trees, poles, or hammock stands with hanging tree hooks and chains. Webbing straps, tree straps, synthetic tree slings, loops, or nylon ropes tied to the rope hammock with carabiners are used to suspend camping hangers instead of spreaders.
Rope hammocks— with several points to attach— provide greater hanging flexibility and adjustability. For the highest support when hanging a rope hammock, make sure the rope has a 30-degree pitch to better adjust to your needs.
Accessories
Consider how you'll use the hammock and whether any of the optional features appeal to you:
Freestanding rope hammock supports, frequently made of metal with a hook, allow you to hang your hammock anywhere, even if there are no trees nearby. A top-notch rope hammock comes with hanging hardware. We must ensure all our hardware is of sturdy material to provide safety from elements.
Most rope hammocks come with carrying bags that allow users to fold the material/fabric and stow it with other beach or camping goods.
Some hammocks made for camping and trekking come with a canopy, which acts as a tarp to protect you from the sun's rays or the occasional rain shower.
Some hammocks come with sleeping cushions and pillows, which are normally detachable.
Multiple models of rope hammocks come with storage compartments where users can keep their phones, books, sunscreen, and other small items once assembled.
Final Thoughts
Rope hammocks are synonymous with unwinding among palm trees. They are comfortable, allowing you to slumber outside or enjoy the air while sipping wine or reading a book. They are a terrific way to express your flair and relax almost anywhere.
Rope hammocks can help you do both if you choose the right one, whether you travel or simply want to make the most of your outdoor space. It offers the sensation that you are relaxing at a tropical destination even though you are at home. There is no need for a plane ticket when you get yourself a new hammock.
However, no two rope hammocks are created equal. That is why we have prepared these reviews and guides in the hopes that you will choose a rope hammock that is suitable for your needs. You can rely on this review since we don't earn fees from promoting any of these brands.
Rope hammocks are the most perfect lounging option on which you can spend hours daydreaming. When you discover the finest one for you, you may never want to leave your house again!
FAQS
Which rope is perfect to hang a hammock?
Ans: Rope classified as "soft laid" or "lang lay" rope is ideal for hanging a rope hammock, whether constructed of natural or synthetic fiber.
Which is better: cotton or polyester rope hammock?
Ans: Overall, the polyester rope hammock is superior for outside use, while the cotton rope hammock is better for indoor use. Polyester rope hammocks are more durable and will not rot, mold, or mildew, but cotton rope hammocks would. Cotton rope hammock is less durable than polyester rope hammock, but it is far more comfortable.
Which type of hammock is most comfortable?
Ans: Cotton is a long-lasting natural fabric and by far the softest of materials, so a cotton rope hammock is exceptionally light and comfortable and feels great against your skin when you rest.
Are cotton rope hammocks good?
Ans: Cotton rope hammocks are relatively lighter, especially without spreader bars, making them portable. Cotton rope hammocks are also quite soft and great for sleeping. On the other hand, cotton rope hammocks are less durable than others and are more likely to fray or be harmed by sharp items.
How far apart should trees be to hang a hammock?
Ans: Depending on the length and form of your rope hammock, as well as the amount of tension you desire, you'll need 10 to 15 feet of space between trees. If you have spreader bars, the length of the rope hammock will determine the distance needed between trees.
How to clean a rope hammock?
And: Use warm, soapy water and a soft-bristled scrub brush to clean the rope hammock; a mild liquid detergent will suffice. Spread the rope hammock out on a deck or concrete surface and fully wet it with a garden hose, then use soapy water and scrub away.
How many feet of rope do you need to make a hammock?
Ans: In general, you'll need about 15 feet of free area to hang your rope hammock, while the actual distance can range from 13 to 16 feet. Remember that the closer your hanging points are to each other, the larger the arc or curve your rope hammock will have once strung.