The 8 Best Tree Swings to Relax in the Open Air: A Comprehensive Buyer's Guide
Childhood memories are hard to forget. Therefore, parents try to make their child's life more exciting and pleasant. A tree swing is one such fun element.  A comfy and quality tree swing in your backyard can help them connect more with nature by having unlimited fun outdoors.
Swinging has therapeutic benefits. It helps people build self-confidence by letting go of body awareness and providing sensory integration more fun.
Finding the best tree swing for your child is more difficult than it appears. Therefore, we looked at all the possibilities, conducted an in-depth comparison with tree swings reviews; and chose the top-rated tree swings for your family. We have also included a buying guide to find the perfect tree swing with the most convenience.
Let's swing in!
8 Best Tree Swings Reviewed: Our Top Picks
Swinging in the cool breeze with your childhood friends in the neighborhood and losing in your imagination are some of the most relaxing experiences someone can have. Sitting on a swing amid your garden or larger sitting area is a great way to unwind. If you have trees in your backyard or front yard, you can easily install a tree swing on them. They are even suitable for your patio.
Let's take a look at the best tree swings available on the market so you and your children can have a fun summer.
The PACEARTH Swing Seat can be hung from a tree branch or a beam. So, these are terrific tree swings for kids and adults. This provides exactly what you want for bringing enjoyment to your family at a low cost.
This tree swing comes with two extra straps. The zinc-plated chains of this outdoor swing are protected from rust and corrosion by thermoplastic.
The tree swing seat is constructed of EVA plastic and has a thicker board that does not deform. The solid seat is also crack chemical, and corrosion resistant. On this tree swing, you and your kids will feel more secure.
The 26-inch U-shaped sitting platform can accommodate small children and large adults alike. These tree swings are free to tilt due to their 5.5-inch breadth and a single point connection to one end.
Pros
Anti-rust materials
Budget friendly
ASTM standard and pull test passed chains and seat
Even adults can use it with the kids
Includes a locking buckle for safety
Cons
This tree swing will be loved by your kids, but it may not come with everything you need to set it up properly.
The Sorbus Saucer Tree Swing is a terrific product.  It's easy to install and made of durable and sturdy materials. A 1-year warranty covers any concerns with your purchase that many users prefer.
The Sorbus Saucer Tree Swing is 7 lbs. and 40 inches in diameter.
This unique saucer swing comes with adjustable ropes for hanging it from a tree or a swing set. Remember that these ropes are only 63′′ long, so you may need to get a hanging kit as well.
Its maximum weight capacity is 330 pounds. It is a perfect choice for ages 3+. Adults can enjoy it too. Thanks to its large size, stability, and durability, multiple children can play on this swing at once in all seasons.
Pros
This swing holds several kids at once
Sturdy frame
Adjustable rope length
High-quality materials
Durable, easy assembly
Comes with a one-year warranty
Cons
Does not come with a hanging kit
Low weight limit
Invite some friends over, cook some pizza on the portable oven, and let the kids play on this saucer swing.
This tree swing for kids is made of tough materials, including 900D Oxford fabric in the swing seat that won't wear out or stretch with continuous use. The seat is also made with weather resistant materials, allowing it to be left outside in all weather situations. It's ideal for people who live in humid or damp areas and don't have enough storage space when the weather changes.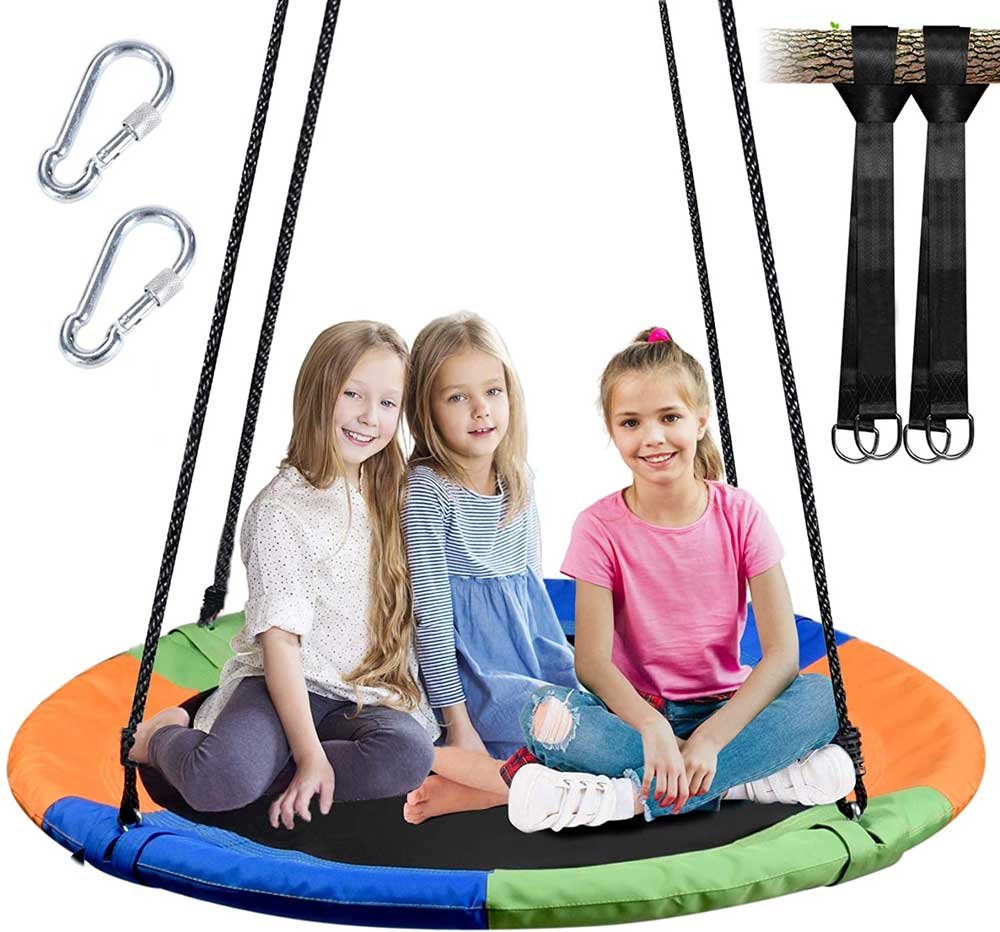 This 40-inch saucer tree swing allows for several children to ride at once. It's made of steel with M9 screws and PE rope. The strengthened stitching helps prevent tears and rips from heavy use and prevents fraying.
You also get a sturdy hanging kit with stainless steel carabiners and straps for a quick and easy setup that takes just minutes. It hangs easily from a tree, jungle gym, or pre-existing swing hanging frame for other models.
Pros
Resistance against water damage
Easy installation
40 inches wide seats with 900D Oxford fabric support lots of weight
High-quality construction materials and PE rope
Spacious area for a few kids
Can be attached to existing frames
Includes hanging kit
Cons
One of the top features of the Royal Oak Giant 40 inch Spider Web Tree Swing is the ease of assembly! Make the most of this really useful function.
The tree swing saucer is 40 inches of 900D Oxford cloth with an industrial quality sturdy frame, making it one of the high-end models.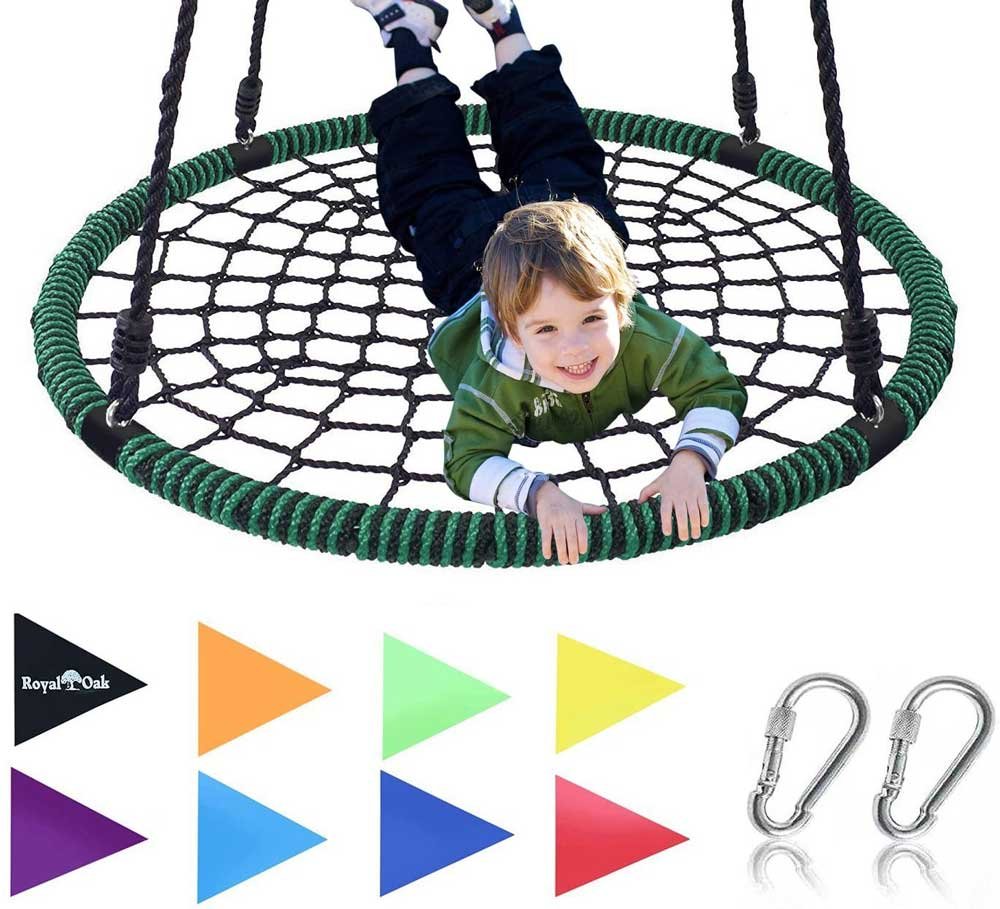 The material is designed to withstand up to 600 pounds of pressure without snagging or puncturing. So, you and more than one child may have a great time on this tree swing set!
The tree swing set is protected by an industry-leading protective coating that can withstand rain and snow.
Setup is a breeze with the provided hanger clips, ropes, protector, and detachable flags.
Pros
Easy to assemble
Can accommodate more than two children, or two older kids
Durable materials and sturdy frame
ASTM approved in terms of safety
Ropes are adjustable
Adjustable handles
Several color options
Cons
Possibility of colors fading in the future
With the Sorbus Spinner Swing, you get the whole package. For starters, this swing for kids comes with necessary hardware and easy-to-follow instructions.
It has a heavy-duty spider web design and a 40-inch wide woven durable nylon rope net seat. With a 220-pound weight capacity, you and your family may enjoy a peaceful swing.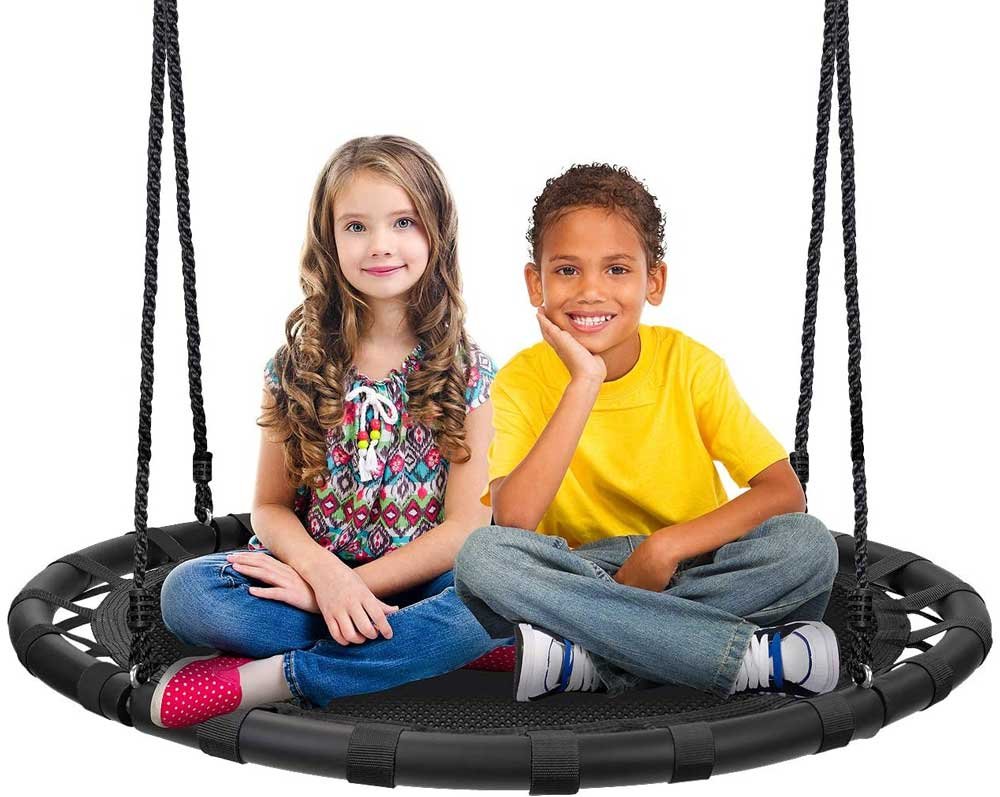 The rope seat cushion provides a smooth ride while securing your swing.
The steel frame can go up to 45 degrees all around! The steel rings at the top of the ropes link to a sturdy suspension rope, 63 inches from the base.
This wonderful option allows the kids to swing or spin during outdoor fun active playtime, away from computer games. Its attractive feature is that it may be joined to a pre existing old swing set or other outdoor playtime equipment.
Pros
Easy to install
Extra durable and sturdy textile fabric, can withstand repeated outdoor use
Includes awesome connection suspension
Extra padding on the steel frame
Enough space for multiple kids or one person to climb inside
Cons
Netting may be stretched out over time
Play Platoon's Spider Web Tree Swing is a stylish, functional, and unique swing. It is ready to hang, comes fully assembled. Simply take it out of the box, hang the swing up, and swing by.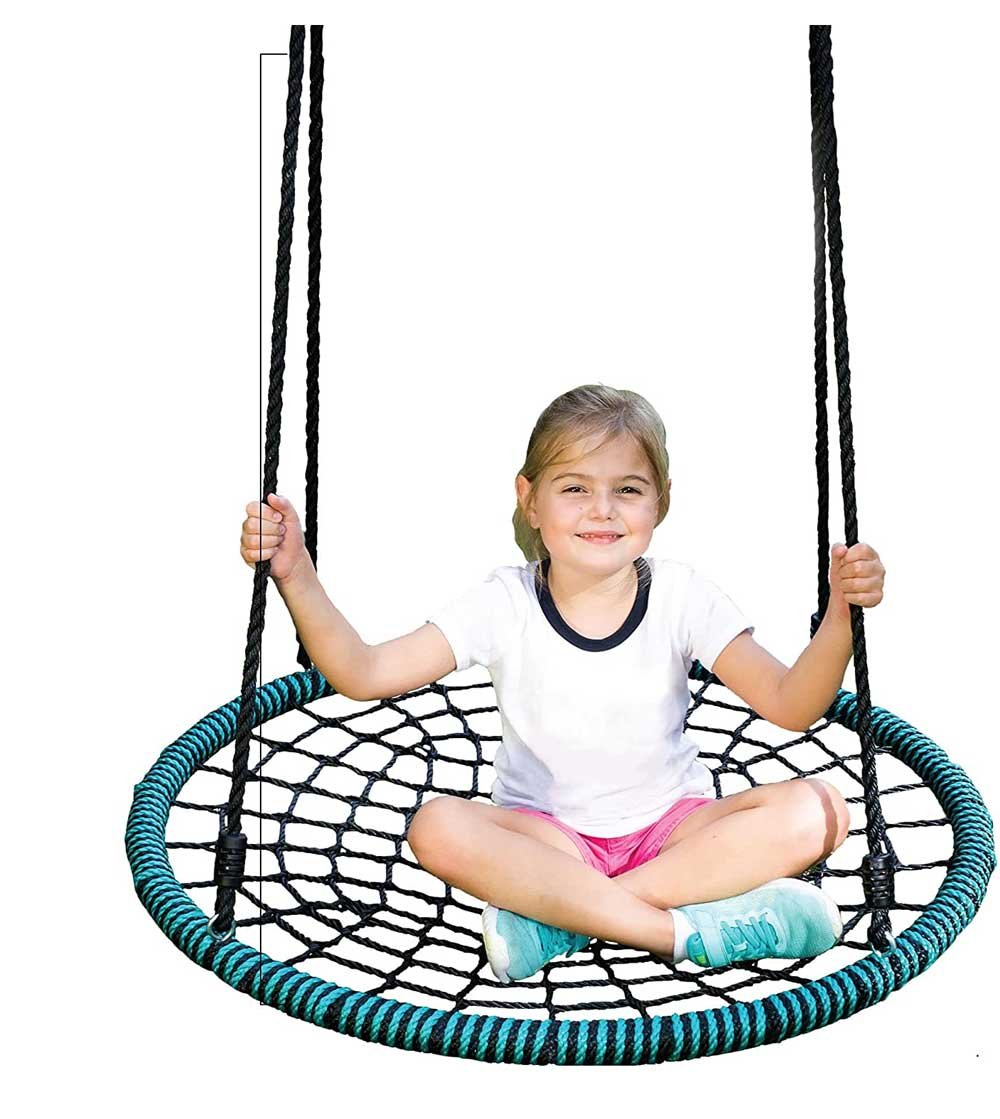 These extra-large tree swings have a seat with a 40-inch diameter, can handle up to 600 pounds, and easily fit four kids or two adults.
This spider web tree swing also comes with extra strong ropes that are intended to last you and your family years of fun in the sun (protection against UV rays).
It also includes easy-to-follow construction instructions and two carabiners for hanging the tree set. Finally, if your swings break, don't forget that this swing set comes with a one-year warranty.
Pros
Comes fully assembled
One of the finest swings for kids and adults
Extremely comfortable and ultra-safe
UV resistant
Built with durable and strong materials
Comes with a one-year replacement warranty
Cons
The BLUE ISLAND Children's Tree Swing is easy to assemble with the provided instructions, so you and your kids may finally swing together safely.
The durable frame and construction make this tree swing simple to assemble, even between two trees.
The steel frame is what makes this wide and sturdy saucer tree swing move. It's covered with a 600D Oxford fabric that stretches 40 inches wide. The sturdy woven straps secure the swing's overall equilibrium.
The tree swing is designed for efficiency and comfort, allowing you to hang your legs over the edge without discomfort.
This swing set is a safe and enjoyable family investment. Consider the mentioned features when choosing the best model.
Pros
Easy to assemble
Simple assembly
Various safety features, nothing unusual to worry about
Can accommodate up to three children
Unique colorful design and comfort features with motion and bounce
Sturdy and durable construction materials
Cons
Does not include spring links
Another high-quality swing that will serve its owner well for a good many years to come is the Trekassy Giant Platform Tree Swing. Kids will have a wonderful place to rest and have fun with family and friends when you add some Trekassy Tree Swings to your indoor or outdoor environment.
This particular one is a strong and spacious platform swing. The steel seat frame measures 60 inches by 32 inches, and it has a tight weave fabric seat that can accommodate either two adults or five children. It has a weight capacity of up to 700 pounds. A child can swing for longer periods of time without putting themselves in danger.
It comes with two sets of 5ft 2000lb tree straps included. They have a capacity of up to 6,000 pounds. There is no requirement for the purchase of additional straps or any other equipment.
The large swing seat is protected from wear and fading by being crafted from a high-quality textilene material that is also resistant to UV rays. As a result, it will last for a significantly longer period of time than swings constructed of other materials. You and your children can sit and swing in complete comfort regardless of the weather.
The swing set comes with extra ropes measuring 71 inches in length and 12 millimeters in thickness. These ropes are made from high-quality PE webbing and have metal rings for safe fastening. This length can be adjusted to be anywhere between 47 and 71 inches. The ropes are also resistant to UV light and won't lose their color over the course of several years.
This platform tree swing comes with illustrative instructions that can be followed step-by-step, along with all of the necessary mounting gear and hardware. This swing may be hung practically anywhere, whether it be indoors, outdoors, or in a playground as long as there is a horizontal branch or pole to hang it from. This may be hung in a matter of minutes on a swing set, pergola, tree, or any other spots using the hanging kit that is provided.
Pros
Assembled in minutes
Affordable
With a maximum capacity of five kids or two adults
A hanging kit is included
Can beset up practically anywhere
Strong ropes and metal rings are provided
Wear resistant
Protected against UV rays
Excellent build materials
Durable
Comfortable and safe for your kids
Designed to withstand the harshest of weather
Cons
The stitches are not the strongest
The straps are not of the best quality
Buying Guide for The Best Tree Swings
Nowadays, the number of swings available for purchase is nearly limitless. But which one is the most suitable for your family's needs? When purchasing the best tree swing set for your home, consider the following factors.
Types of Tree Swings
There are various types of tree swings to pick from:
i. Saucer Tree Swings
Saucer swing has flat soft texture cloth saucer seats that can be hung from single straps. It is a heavy-duty swing and a great choice for multiple ages.
ii. Pony Style Tree Swing
Fashioned like a miniature saddle, this tree swing allows the rider to straddle the mane in the manner of a "pony."
iii. Platform Tree Swing
A platform tree swing features a robust plastic-based large platform seat with two integrated foot molds to keep the tree swing's feet safe. Each of these comes as a massive platform swing.
iv. Skateboard Tree Swing
On these tree sings, you can sit or stand on a flat skateboard to catch some air!
v. Surfboard Tree Swing
The stand up surfing swing has a curved swing seat and a wide range of power and motion.
vi. Spinner Tree Swing
Spinner swing has a base with a spinner mount that allows you to spin and swing at the same time.
Size
If you're looking for a normal swing to hang from a tree branch as a backyard swing, make sure the new tree swing seat is at least seventeen inches long for enough room, eight inches broad, one inch deep, and seventeen to nineteen inches (ideal height) off the ground.
There are also swings available in various sizes ranging from thirty to fifty inches in width. The size of such tree swings alone is quite accommodating. It guarantees the safety of your young children and the whole family to enjoy.
Material
Backyard tree swings are available in various materials, so it is up to you to select the finest option for your pleasure. Modern swings have improved in this area and are typically made of nylon, polyester, or a strong and sturdy material that is similar to it.
There is also a traditional swing made of wood that has been updated for improved appearance and functionality to accommodate children. The existing model of plastic swings has been improved to withstand harsh weather, durability, and overall effectiveness of the tree swing set.
Swing Seat Type
Most people are accustomed to seeing the rectangle seat as a universal design that we have grown to adore; however, seat swings can come in various shapes such as hanger (your typical swing), circular, tire, and belt. There are other rustic wood options and spider web swings to choose from!
Although hangers are the most common, spider styles are also popular due to their unique features and high performance.
Belt tree swings and tire swings are excellent options if you want a robust yet decent design! So, while choosing a tree swing, keep these styles in mind.
Weight Capacity
At first, consider how many kids or even adults are supposed to use the new swing and the user's age.
Different types of swings may support varying amounts of maximum weight capacity. A traditional tree swing at your neighborhood park, for example, can hold up to 800 pounds due to the heavy-duty steel chains and steel frame that hold it up.
Because of its hanging structure, a hanging outdoor swing chair in your backyard can hold up to 350 pounds.
The swing seat is also important; round and flat seats coupled with steel chains may hold 600 to 700 pounds! If you're using hanging rope to support your new swing, you're looking at a weight capacity of 300 to 400 pounds.
Straps 
Because of their modern design and efficiency, tree swing straps are a fan favorite in the tree swing set arena. They might take the form of fabric straps or chains and sell separately.
Modern straps are often composed of durable polyester material with strong webbing, with alloy carabiners included in the tree swing set. They are advertised to hold between 1500 and 3000 pounds!
Of course, the original straps and chains are still available to complete your vintage look. The chains are typically available in 3/16 inch and 14-inch link sizes. They are galvanized and strengthened, with a smooth finish for safety and style.
Spinner Mount
A spinner mount is a device that is fastened to the top of the tree swing and allows your new swing to twist and spin around without the straps or chains becoming entangled. They sometimes require special assembly.
To match the overall style of the tree swing set, the spinner mount might be circular or triangular in shape. However, you cannot use these if you install your swing using two trees.
The spinner mount is often composed of a strong alloy or galvanized steel to offer structure, balance, and strength to support your weight and keep you from free fall and landing flat on your face!
Safety Features
The seats and framework are two special safety features that should always be considered when choosing a swing, specifically if you're buying a baby swing or for a toddler.
The seats you select will either have a flat surface or a form of netting as the seat. If the seat is flat, ensure that the thickness is strong enough and has plenty of room to support the weight of at least two adults.
The framework is the most important component because it serves as a framework for the entire tree swing. The frame's pipes and poles should be reinforced or galvanized steel for maximum security and safety.
Tree Swings Maintenance Tips
Check that the "S" hooks are closed and not overly worn.
Replace swing seats with exposed metal as soon as possible so that children can ride safely.
Check to ensure the swivel rubber sleeve properly supports the chains and tires so that children do not fall while riding tire tree swing.
Replace the chain if you happen to hear a squeaky sound caused by rust, leading to fatal injuries.
Ensure Maximum protection by checking that your tree swings have safe landing surfaces.
Check that all nuts, bolts, screws, and tire swivels are secure to prevent injury.
Examine the wooden swing for splinters.
Welds on connecting points on the tree swing should be examined regularly.
Oil the swings' working parts regularly for a pleasant swinging experience.
Final Thoughts
The tree swings for kids can help your children spend endless hours outside and away from video games. It's a beautiful exercise that lets kids (even yourself) get some fresh air while swinging in a tire swing on a lazy afternoon. Make sure your kids are under parental supervision. You can look into other swings, too; Flying Squirrel Giant Rope Swing is also a popular choice.
Unlike other websites, we are glad to state that we do not receive any compensation for linking to any associated brands. You can be confident in relying on this evaluation to assist you in your search. Please let us know if you purchase anything from our list.
We are confident that if you follow all of these features, reviews, and tips listed, you will find the best swing that meets your needs.
If you have any questions, suggestions, or comments on our top picks, please do not hesitate to contact us!
FAQs
What are the finest tree swings?
Ans: Play Platoon Spider Web Tree Swing, PACEARTH Tree Swing Seat, and Royal Oak Giant Spider Web Tree Swing.
What makes a good tree swing?
Ans: Find a healthy tree free of bushes, structures, or other trees. Choose a branch with 8 or more inches in diameter, growing 10 to 15 feet above the ground. Unsafe for children swinging arcs result when swinging from branches higher than 15 feet. Choose a 1/2-inch-thick adjustable hanging rope that can support two adults' weight. Install a smooth seat 24 inches off the ground as that's the desired height.
What is the best flying saucer tree swing?
Ans: BLUE ISLAND Tree Swing.
Do rope swings damage trees?
Ans: A hanging rope and a tree branch with nothing in between can undoubtedly harm a tree. The rope rubs against the branch every time you swing, removing bark and leaving the tree prone to pests and disease.
What kind of tree is perfect for a swing?
Ans: Select a sturdy tree species such as beech, oak, sycamore, or maple. Avoid weaker species, such as pine, poplar, spruce, willow, and birch. The tree should be healthy and sturdy, with no symptoms of disease, rot, or cracking.
How do you tell if a tree branch is strong enough for a swing?
Ans: The branch that will support the tree swing should be sufficiently thick. As a general guideline, safely attach to a branch that is at least 8 inches in diameter. The tree should be in good shape. Cracks or breaks in the trunk, dead or drooping branches or rotting regions indicate unhealthy trees.
How much weight can a tree branch hold for a swing?
Ans: An oak tree branch can handle a single swing weighing around 60-70 lbs. plus the riders' weight (150-400 lbs.).