Cartman Bungee Cords: One of The Best Bungee Cords for Various Activities
The term "bungee cord" refers to a cord with an elastic core and a woven covering. 'Shock cord' or 'elastic cord' is another name for this sort of rope. Bungee cords and duct tape are two of the most helpful household items.
Bungee cords come in a wide variety of shapes and sizes. Mini bungee ropes are perfect for securing tiny items like camping gear, or a garbage can lid. Heavy-duty cables and greater lengths are offered for bulky goods.
For such a basic instrument, selecting the appropriate bungee may be a challenge! Bungee cords come in a variety of lengths, stretches, and connections. You must select suitable bungee cords for your needs. But that is not always easy.
Because the market has so many things to offer you, and not all of the bungee cords you see on the market are equally good, you may end up with the wrong bungee cord. It is really easy to get there!
One of the best options when it comes to bungee cords is the Cartman Bungee Cords. It has gained a lot of attraction over the years.
A Brief Overview of Cartman Bungee Cords:
Cartman's bungee cords are among the strongest on the market. They are composed of UV-resistant multi-strand rubber cables, which can survive all weather conditions.
There are five different lengths of bungee cord: 10, 18, 24, 32, and 40 inches. In addition, there are four 8-inch canopy ties. This set of bungee cords has 3.5mm steel metal hooks attached to it. A plastic coating on the hooks ensures that they won't damage the surface.
In addition to being incredibly adaptable, the bungees are extremely strong. Over motorbikes, they may be used to transport household goods, camping gear, or other objects.
Many camping accessories are available from the manufacturer, including tie-downs and strap clips. Ratchet straps for industrial application can be used to secure large items during transport.
Cartman Bungee Cords Features:
The Cartman Bungee Cords come with many features that allow you to perform the best tasks for your needs. We will see them here in detail.
Materials
A bungee cord's inner core is comprised of a variety of elastic materials. But the outer coating is what defines where and how you may utilize them. There are types of sheathing that are resistant to UV radiation and those that are resistant to mold, water damage, and mildew.
For large weights like bricks, stones, and tree branches, the abrasion resistance of Bungee cords should be considered. In contrast, water resistance is great for individuals who use these cables on camping vacations.
The Cartman Bungee Cords is made with rubber cords for superior strength and great stretches. This makes sure that the Cartman Bungee Cords last long and provide you with a genuine service for a long time.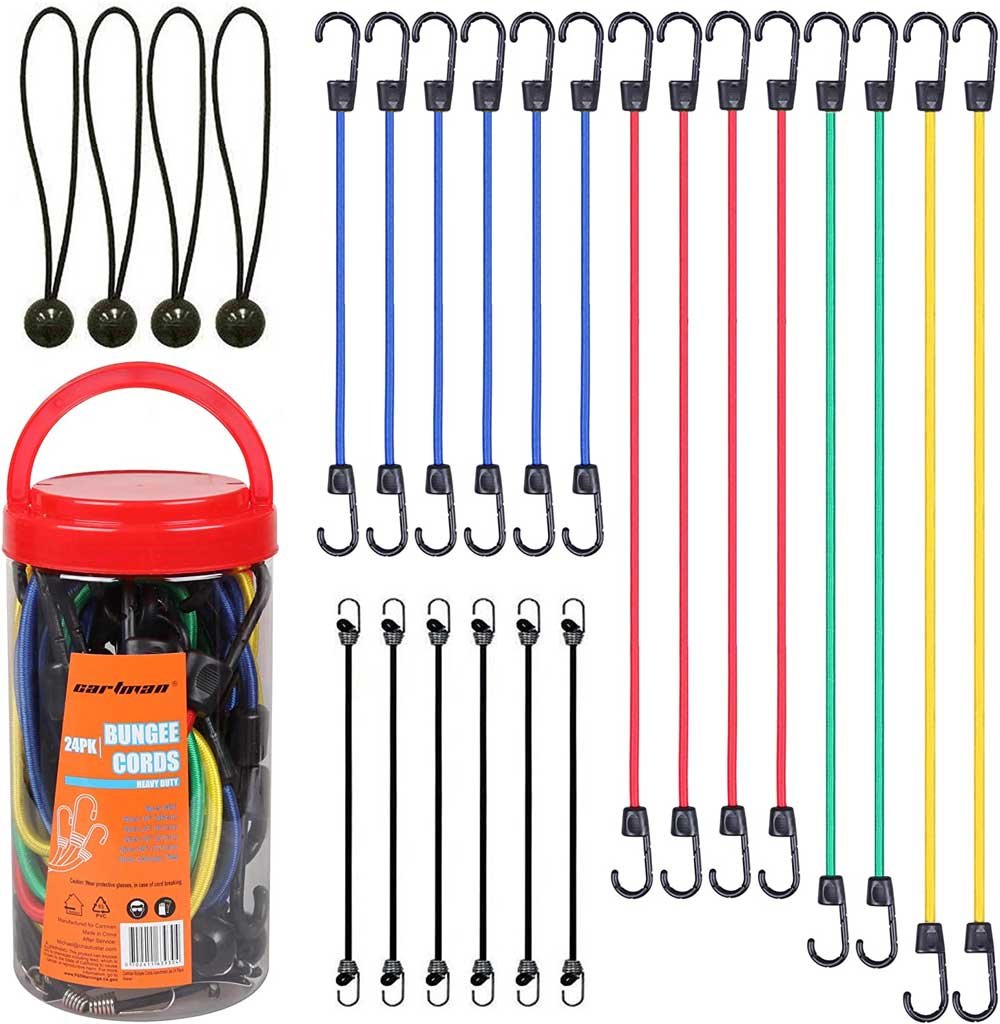 Colors
It's possible to get bundle cords in a variety of colors. When it comes to colors, there is a variety to choose from. Color-coding the Bungee cables are simple here. You should buy a variety of colors if you plan on using them in a variety of ways.
The Cartman Bungee Cords comes in many colors for your use. However, the colors are coded for different uses and different lengths. As you know, different lengths of bungee cords are for different uses. Cartman Bungee Cords come in different colors for your different use and convenience.
Length
Bungee codes are available in a variety of lengths to meet your specific needs. The length you require for your specific application must be determined before purchasing one.
In the case of little things, you'll need shorter Bungee cords. Therefore, people who want to go hiking could opt to use little bungee cords to keep their socks in place. You may also attach them to the exterior of your bag, where you can readily reach them.
Longer bungee cords are the greatest option for anchoring a trailer full of furniture or wood. You may also buy spools of bungee cords and cut them to your desired length size, or you can simply use the cord as it is. Before choosing on length, you should take the elongation rating into account.
The Cartman Bungee Cords come in many different sizes. Actually, it comes in a jar with 24 cords of different sizes. It has 6 cords of 18 inches, 4 cords of 24 inches, 2 32 inches cords, 2 cords of 40 inches, 6 10 inches mini cords, and 4 pieces of canopy ties. As said before, these are color-coded and are very easy to identify and select.
Diameter
Before making a purchasing selection, evaluate the bungee cord's diameter. The bigger the diameter of your bungee cord, the stronger that cord is. It is best to use thicker cables for heavier loads. You should compare these cables before making a purchase because manufacturers create them with a few changes.
The Cartman Bungee Cords comes with a diameter of 8 mm. This is a strong bungee cord specification for almost all uses of the bungee cords, the different sizes of the cords have the same diameter.
Connectors
There are several Bungee codes that feature d-rings (carabiners) on both ends of the cable, which makes it easier to attach it. It is possible to get hooks made of simple metal that is less expensive. Non-abrasive and scratch-resistant connections can be found in the market, as well as more expensive connectors. Try to steer clear of large connections since they may not be helpful. Decide on a suitable dimension for your needs.
The Cartman Bungee Cords has a strong connector on each end on all 24 pieces of the pack. It is very useful and strong for your use.
UV Resistant
The Cartman Bungee Cords has UV-resistant coating jackets that protect the rope from UV damage. UV rays can damage the rope, and it is a known fact. The cords that do not have UV-resistant coating will not last long.
The Cartman Bungee Cords will last you a long time because of the UV-resistant coating.
Uses of the Cartman Bungee Cords
Cartman Bungee Cords can be used to construct camping gear. To provide a temporary shelter, you can hang a clothesline between two trees. Using Cartman Bungee Cords to aid in the transportation of cumbersome items is one of the most practical uses of bungees. They're useful for carrying bundles of items.
Securing may be the most common usage of Cartman Bungee Cords that we are aware of.
When it comes to transporting anything, Cartman Bungee Cords are a must-have. In the most common use case, they are used as truck bed straps to secure items to the vehicle. Bungee straps may be used to attach anything from wood to sleeping mats when being transported in a car, truck, or van.
Cardio and resistance training may both benefit from the usage of Cartman Bungee Cords. You may also use these strings to form a jumping rope.
Conclusion
One of the best ropes on the market today is the Cartman Bungee Cords. It comes with all the best features and quality of the build. The 24 pieces pack and color-coded sizes of the Cartman Bungee Cords are very useful and handy for using a bungee cord.
It is reasonably priced as well. You can get the Cartman Bungee Cords without any worry or confusion.
To check more bungee Cords click here.