Obcursco Wakeboard Rope Review: The Best Wakeboard Rope
The sport of wakeboarding is an exhilarating and popular pastime among both seasoned pros and amateurs, and with good cause. A terrific way to have a good time on the water; it's athletic, fast, and exciting. The most significant aspect of the sport is the rope that a wakeboarder grips onto while being towed by a boat.
For wakeboarders, it is critical to select the best wakeboard rope and handle for their needs. If you are a wakeboarder, you cannot ignore the importance of this decision. You will always need to use the proper sort of wakeboard rope, and the best wakeboard rope is specially developed for wakeboarding for the sake of safety and greater performance. Now, clearly, quality is important, but each rider will have their own preference.
Today, we'll take a look at the Obcursco Wakeboard Rope, which is one of the most popular wakeboard ropes on the market. In addition to wakeboarding, it is also ideal for waterskiing, kneeboarding, and other watersports activities.
Features
Watersport's equipment manufacturer Obcursco is a well-known and renowned name in the business. They mostly sell clothing, shoes, and jewelry, as well as sporting goods and outdoor items. Their customers are quite delighted with the quality of their products and the level of customer service they receive.
With a maximum tensile strength of 2200 pounds, the Obcursco Wakeboard Rope is a highly durable professional 16-strand 30-filament rope.  If you become separated from the rope, it will float to the surface, saving you the trouble of searching for it underwater. It's a solid bet if you're looking for a good, strong wakeboard line.
Intrigued? Let's glide into the specifics!
Material
The rope and handles used in wakeboarding are constructed of a variety of materials. Some are built with Spectra, while others are composed of Dyneema, while still others are constructed of polyester. The appearance and performance of these materials differ from one another.
Wakeboard rope materials can have an impact on how well your rope pulls you, how long it lasts and whether or not it tangles. Generally speaking, a rope with little to no stretch is preferable because it provides a more consistent ride and pop each and every time. A rope having leeway in it will make it more difficult to anticipate how it will behave, which will result in less consistency in your performance.
Poly E is used in the construction of the Obcursco Wakeboard Ropes. As a low-stretch rope material, Poly E is slightly more accommodating than other wakeboard rope materials on the market. Under regular riding conditions, Poly E will extend two to three percent of its total length. When cutting through a boat wake, the give-in this rope helps cushion the stress, which is beneficial for beginners but destructive to more expert riders.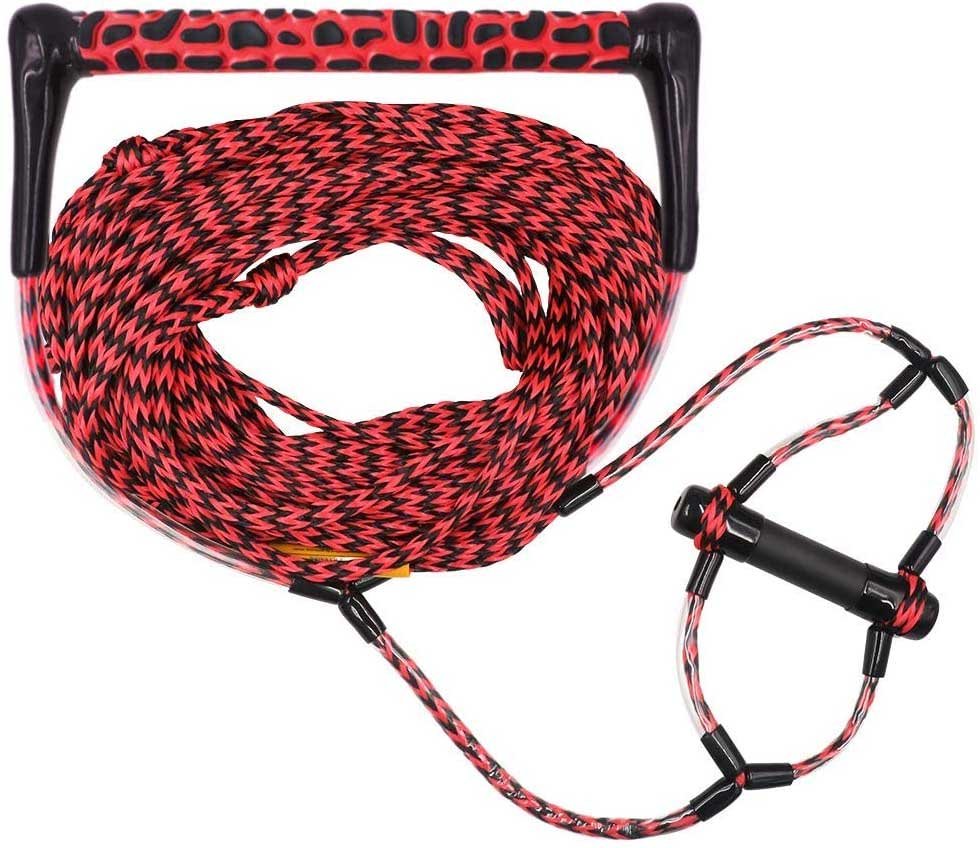 Length
Many people believe that picking the appropriate wakeboard rope length is simply a matter of selecting a length that permits you to leap from wake to wake. Unfortunately, this is not the case.
Beginners and intermediate riders are more likely to choose a shorter rope in order to reduce the size of the wake. This makes sense while you're just getting started, especially if you're working on your wake-to-wake technique. In contrast, while shortening the rope makes leaping the wake smoother, it also offers you less time to lead into the wake and position yourself for the ideal pop.
It will be more difficult to hit those stunning jumps over the wake with a longer rope, but you will feel more in control and may have a comfortable ride with a longer rope.
The length of the Obcursco Wakeboard Rope is roughly 70 feet. This length is appropriate for riders who are just starting out or who have some experience. These riders will be able to perform simple tricks and spins on the wakeboard because the length is neither too long nor too short.
Tensile Strength
The high-density material used in the construction of the Obcursco Wakeboard Rope provides excellent tensile strength. This rope, which has a tensile strength of 2200 pounds, is stable and durable for wakeboarding, skiing, Kneeboarding, and other water activities.
Durability
The Obcursco Wakeboard Rope is a professional 16-strand 30-filament rope that is manufactured of Ploy-E, which is a very durable synthetic material. The PVC bridle is completely enclosed in flexible vinyl to provide maximum protection against wear and abrasion. You can trust this rope to provide years of excellent service, not only for wakeboarding but even for other watersports as well.
Handle
Handle design has evolved to meet the needs of wakeboarders of all skill levels and abilities. New handles are constructed from a variety of materials and come in a variety of forms and sizes that are precisely intended for your performance and comfort.
Handle Materials
Handles are composed of many materials, including EVA, aluminum, and even carbon fiber. Prices rise in direct proportion to the weight and strength of the handles. Handle grips are available in a variety of styles and materials. You'll get everything from rubber to chamois in this category. To improve grip, handle material is frequently embossed with a texture.
Aluminum is used to construct the handle on the Obcursco Wakeboard Rope. When executing stunts on the wakeboard, aluminum handles provide a stronger grip. The handle's double-density EVA cover is 15 inches long and has been designed to provide a greater grip for optimal performance and comfort. For spins and reversed flips, the handle gives additional leverage and pull thanks to its 6-inch TPR coating.
Handle Length
Wakeboarding handles are typically 5 to 15 inches wide in size. It is easier to accomplish stunts that demand you to slide the handle behind your back when the handles are larger in size.
The handle of the Obcursco Wakeboard Rope measures 15 inches. If you want a stronger grip on your rope and have more options to perform more techniques, then this broad handle will be your best option.
Attachment
The "T" and "V" handles are joined to the main handle. They enable you to pre-wrap the handles behind your back in order to prevent the handle from passing through your hands during a trick. Riders frequently use "T" and "V" grips on their boards to keep their boards in their hands throughout spins and flips on the water.
The Obcursco Wakeboard Rope has a V-shaped attachment for easy handling. The wide V attachment between the handle and rope connection keeps it balanced and facilitates learning optimum postures for better riding.
Buying Options and Price
The Obcursco Wakeboard Rope is available in three color combinations: red and black, yellow and black, and green and black.
The price of the Obcursco Wakeboard Rope is quite reasonable when you consider the engineering and the superior quality of the materials used in its construction. This wakeboarding rope, which costs less than $40, ensures that you have a spectacular performance on the water while also remaining safe.
Conclusion
We were awestruck with the performance of the Obcursco Wakeboard Rope. The materials used to construct it appears to be sturdy and long-lasting. Everything, from the braiding of the rope to the coatings on the handles, is carefully examined and employed during the creation process. In order to be the ideal choice not only for wakeboarding but also for other watersports, this rope has been devised. You are getting a fantastic deal here for less than $40.
To discover more about other amazing wakeboard ropes as well as how to select the most appropriate rope for you, please see our extensive buying guide.
To check more wakeboard Ropes click here.