Best Macrame Cord for knitting the perfect hanging for your home
The best macrame cord is made up of several strands which are twisted or braided unitedly. Then they are tied or knotted together in a form known as macrame.
Many people who are just starting with macrame will hear or read about macrame string, macrame yarn, or macrame rope. These synonyms can often be used interchangeably to refer to macrame cord.
Macrame cords are made chiefly from natural cotton. However, you can also find jute, linen, crochet thread, knitting yarn, twine cord, and other twisted fiber strands for different projects.
The art of macrame involves knotting and tying fibers. It's better to choose a soft, smooth cord for this purpose. This makes it easier to tie without the fibers or strands becoming caught on each other and fraying.
To help you find the best macrame cord for your need, we have put together an incredible list of top macrame cords available in the market.
We have put together a comprehensive buyer's guide for all the newcomers in the macrame world as well as seasoned knitters. This guide will unquestionably be of your service in finding and choosing the proper rope for your macrame wall hanging.
6 Best Macrame Cords Reviewed: Our Top Picks
We have reviewed these cords so that you can choose the suitable rope of your liking. The reviews, along with the pros and cons, will surely help you choose 'the one'.
XKDOUS macrame cord is unquestionably one of the strongest, softest, most versatile macrame cords you can buy for your macrame project! This natural cotton is exceptionally durable and soft.
XKDOUS cords are available in a wide range of lengths, colors, and sizes. You can use them for virtually all macrame projects. Although the smaller ropes work well for small jewellery and tapestry, the larger ropes are perfect for large rugs or hammocks.
Every single string is made of 100% pure cotton fibers. They are then twisted into 3-strand cords. You can choose between lengths ranging from 109 yards up to 328 yards and thicknesses ranging from 3 mm to 6 mm.
You can easily separate the strands, but users must be careful not to let the skein unravel far enough as the strands could tangle easily. This macrame cord is easy to work with, despite the possibility of tangling.
Natural cotton is strong and durable for challenging projects. However, it can also be straightforward to unravel if you make mistakes. This cord is ideal if you want to use multiple colors in your design or if quality and looks are important to you.
Pros:
100% cotton string, so it feels soft to the touch
Long-lasting 3-stranded cord
Strong and will not break during the project
Available in different thicknesses, depending on your requirements
109 to 328 yards options available
Availability of a broad & beautiful range of colors
A macrame guide book is included
Cons:
ORGANIC HEMP CORD is 100% organic hemp from 23 Bees. It has not been waxed or dyed in any way. This environment-friendly has nothing in it to cause irritation in your skin. This cord is ideal for crafters with skin allergies or sensitive skin, making it the perfect choice to make your bracelet, necklace, or hat.
All aspects of the 23 Bees Hemp String process, from growing to twisting, are done in-house. This ensures that the string is 100% pure and sustainable for the environment. Even though the cord is not treated, it feels soft to use and comfortable to wear.
You can choose the proper skein for your project by choosing from a variety of lengths and weights. This macrame cord is available in lengths from 200 feet up to 400 feet and weighs between 22 lbs and 48 lbs.
Pros:
100% ORGANIC HEMP STRING
Consistently thick
Soft to touch
Eco-friendly
High-level quality control
There are many length options for cords
Cons:
Macrame cords cannot be used for all purposes. Some cords are not very versatile, but others are great for craftsmen. This cotton macrame cord can be used to make plant hangers for craft and wall hangings.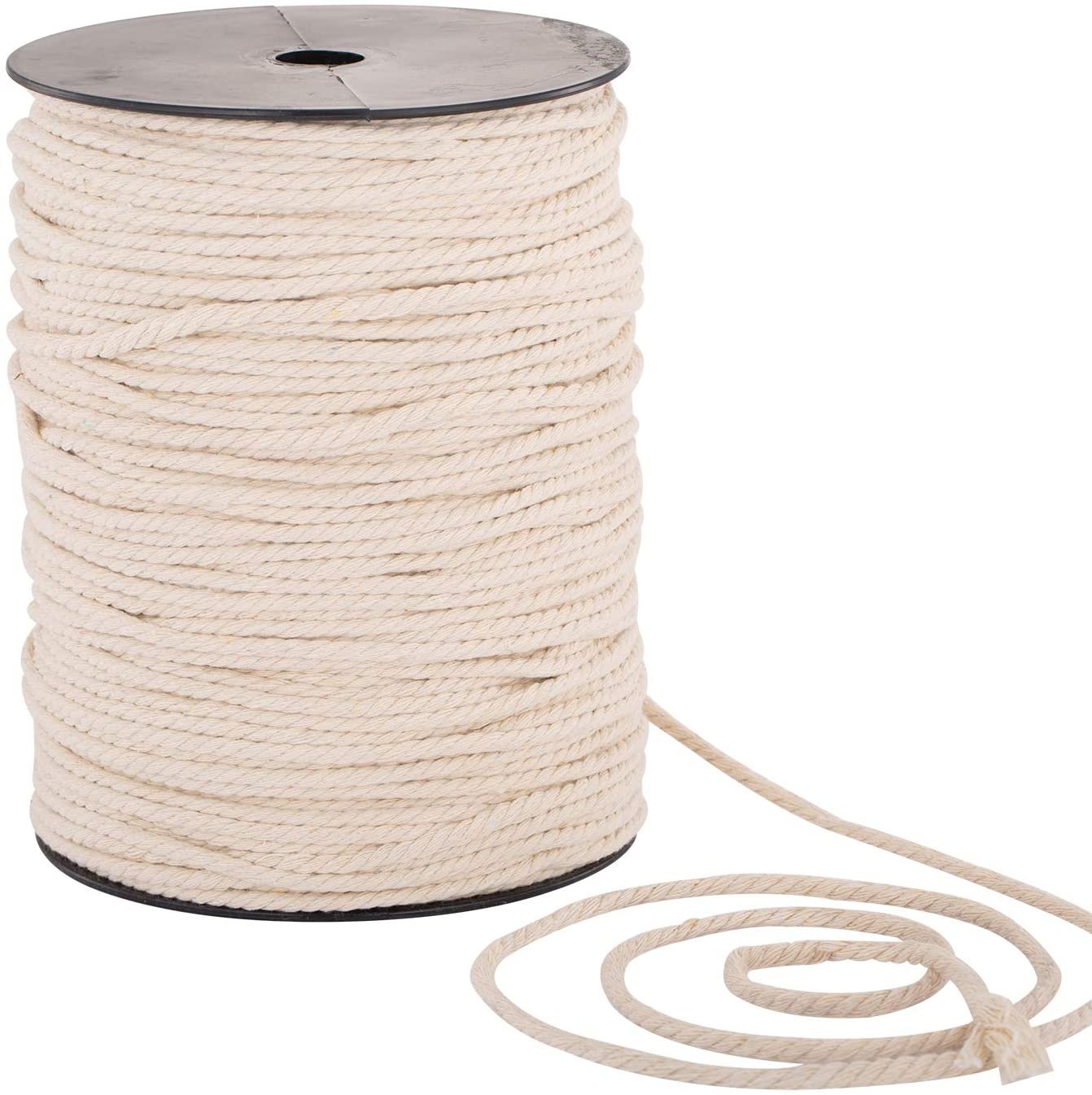 It's made of 100% natural cotton, which is what makes it so unique. It's incredibly soft and firm. The cord is strong and durable, making it an excellent choice for bracelets and necklaces.
The cord isn't dyed, so it doesn't cause irritation to the skin. If you want to color the cord yourself, you can always do it at home!
You can buy this macrame rope in 3 different lengths or thicknesses. Unfortunately, the lengths and thicknesses of the cord are fixed in increments, so the longer the cord gets, the thinner it will become. The length of the 2 mm thickness is 656 yards. While the length of the 3 mm thickness is 328 yards. The shortest option, which is 4 mm thicker, is 240 yards.
Pros:
100% cotton, durable but soft and comfortable
Extra durability with 3-strand twisted cord
It feels very soft to touch
Multipurpose rope
Different length options
Available in multiple sizes: 2 mm, 3 mm, and 4 mm
Cons:
We've only been showcasing natural macrame ropes so far. But, there are so many options that are synthetic. We think, among all the synthetic options, Bonnie Macrame Cord is the finest one available in the market.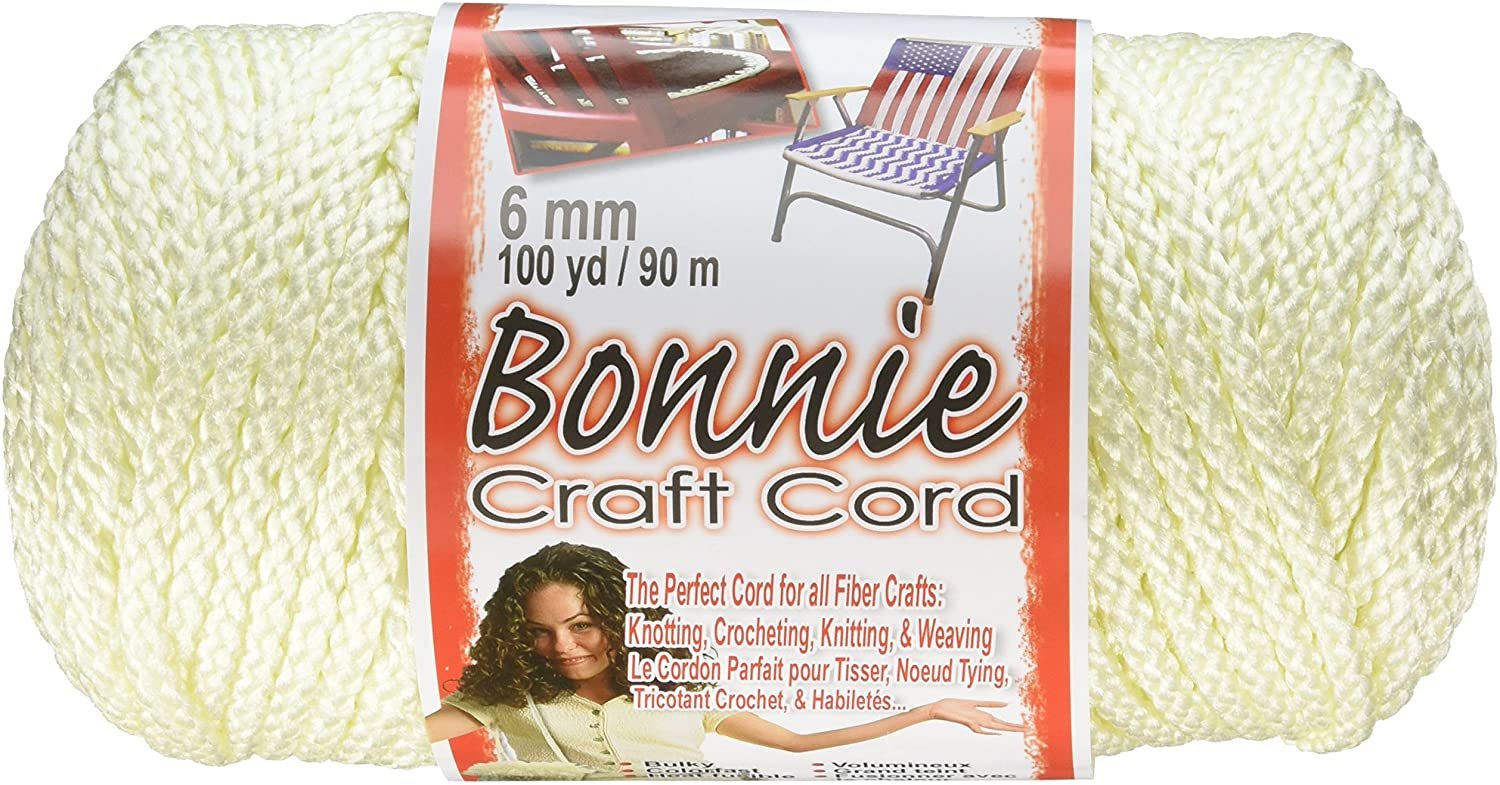 Pepperell's Bonnie macrame cord is made entirely from polyolefin. It's exceptionally durable due to its solid and chemical-resistant qualities. The material is strong, flexible, long-lasting, and not stretchy. However, it can be used with almost any style of macrame.
The cord is made from polyolefin fiber. The strings will maintain their shape and color for many years without the need for cleaning or maintenance. Its tough material and bulky construction offer excellent protection for heavy objects, which makes it ideal for large projects such as hammocks or mirror hangers.
The macrame cord is flexible enough to bend into any shape or pattern. This makes it easy for beginners. You can use heat to attach the ends of the cords when you add length to the rope. This is very convenient.
You can choose from 29 beautiful colors for this cord. The color range covers most of the basic colors. You will be able to find your favorite one from the extensive collection very easily. But, the downside of this cord is that it's only available in one length and thickness: 6mm and 100 meters.
Pros:
Non-Stretchy
Bulky l Construction
Superior Strength
Amateur-friendly
Durable Polyolefin fiber
Sturdy but soft
Braided cord
Broad color range
Cons:
Only one length & thickness
Cyrio Macrame Cord is affordable and comes in a variety of colors: cream, black, blue, yellow, grey, and so on. The cotton cord is easy to twist and unravel, making it ideal for fraying ends. However, it can also be challenging to secure neat knot ends. It is a three-ply structure, which provides less strength than our other picks, but this thickness is the handiest for artisans.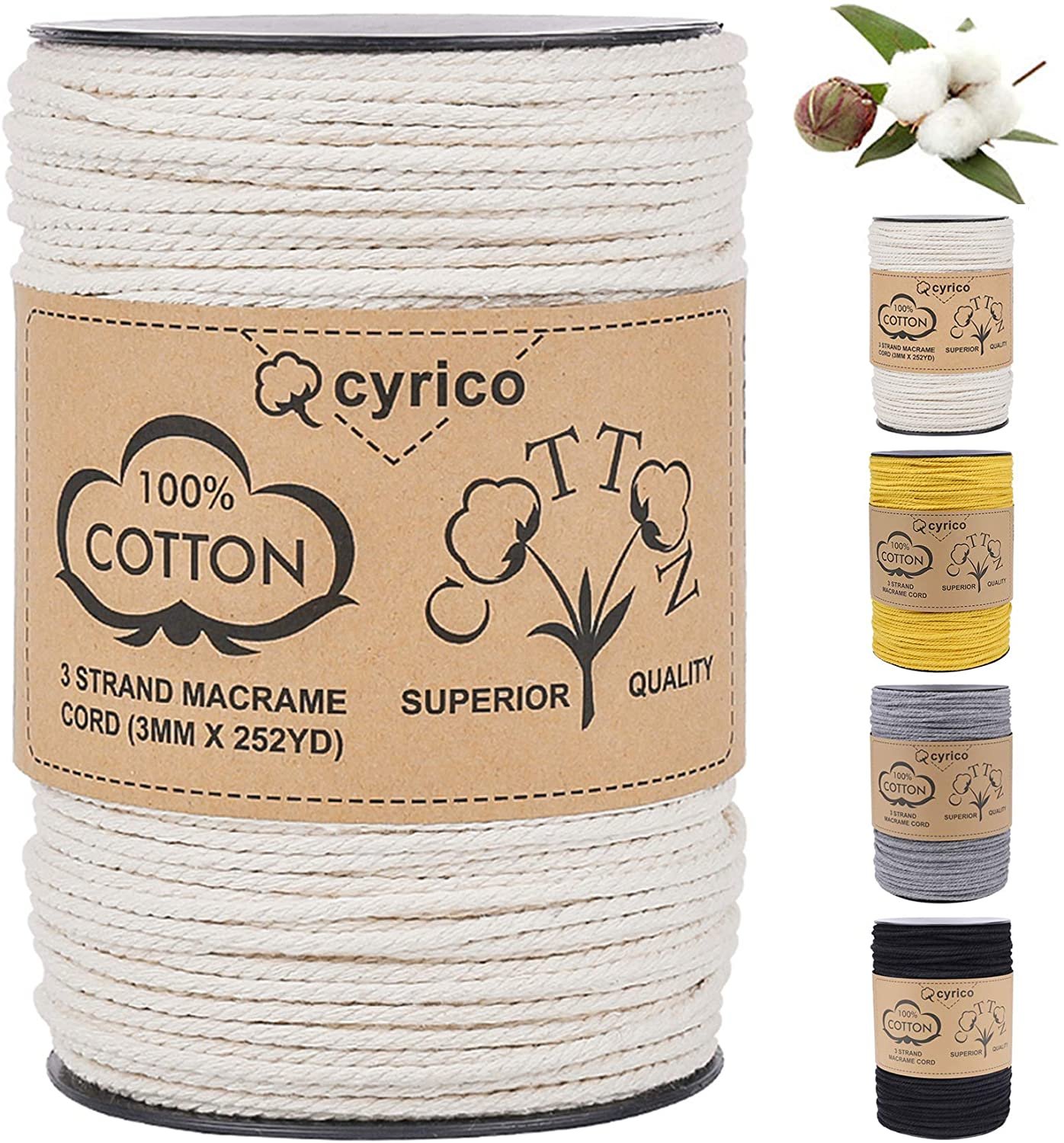 It's also composed of 100% unbleached and natural cotton. It will produce a unique piece of art, so you can use it. Cotton is durable, so the artwork can be used for many years.
The cord comes in 5 different lengths. It is long enough to be used for crafting, wall hangings, gift wrapping, and ornaments.
Pros:
100% unbleached natural cotton
Suitable for numerous applications
 3 strand twisted rope
Available in different colors
Cons:
Different diameters not available
Flipped's macrame cord is the next notable item on this list. Because it comes in such a wide variety of colors, we just adore this cord. You have access to a total of thirty-seven different color choices. If you want to create works with color but don't want to go to the trouble of dying your own cords, we suggest using these cords made of quality cotton.
The macrame cord comes in a wide variety of stunning colors, ranging from bright tones to more muted tones. This gives you a nice range to choose from when looking for a dramatic base cord or more understated embellishments. Although the thread is tightly wrapped, it is simple to unravel in order to create a variety of effects.
This particular cord is 109 yards long, which is relatively shorter than some of our prior options on this list. Nevertheless, users have made it very clear there is enough cord in one spool to make a good wall-hanging or a few smaller projects such as flower pots or ornaments.
This macrame cord is constructed of natural cotton that is one hundred percent pure and of the best possible quality. This cotton macrame rope is exceptionally pliable while still maintaining its strength, making it a joy to work with. There are no fabric scraps or remnants that have been repurposed. In addition to that, it is biodegradable and does not have any unpleasant odors.
The macrame cord is made up of 4 strands that are knotted together. It is three millimeters in diameter. Your DIY projects will benefit from its robustness and thickness.
The macrame cord is excellent for use in the production of a variety of macrame crafts, such as macrame wall hangings, tapestry ropes, macrame plant hangers, dream catchers, bundling, bohemian weddings decorations, jewelry-making, scrapbooking, drawstrings, handmade cards, gardening, and other similar projects.
Flipped additionally offers a money-back guarantee and a product replacement service in the event that any of their products are defective. Therefore, you may purchase this fantastic item with complete peace of mind.
Pros
Made entirely from organic cotton
Available in a whopping 37 distinct shades
7 different length and thickness options are available
A strong macrame with 4-ply construction
Makes it easier to unravel because it's twisted rather than braided
Widely applicable
Biodegradable
Odor-free
A refund or a replacement is available in the event of a defect.
Cons
The stated length is not continuous sometimes and may be made of multiple pieces taped together
Thin in thickness
Best Macrame Cord Buyer's Guide
The initial step in your first project is to choose a suitable fiber. It can be exhilarating and fun to choose the right fiber, but it can also prove overwhelming if you do not know where or how to start. Before you begin any project, it is crucial to consider the macrame cord's impact on the final result.
This buyer's guide will provide you with all the information you need before purchasing a macrame cord.
Types of Macrame Cord
You can find a wide variety of Macrame cords. Each cord has a slightly different structure which can alter its texture or strength.
Single Strand Cord
A single-strand macrame cord is one of the most common and thinnest materials for making fiber art. It is composed of one tightly twisted strand of natural cotton fiber, just like its name.
This type of cord is often referred to as "natural cotton" because it's not woven or braided but tightly twisted. Although it isn't as strong or tight as other cords, it looks great when paired with fringe wall hangings, feathers, and curtains.
To create fringe edges, a single-strand cord is ideal. Frayed cotton ends can be easily brushed out and look amazing when finished!
Multi-Strand Cord
Multi-strand macrame cord made nowadays is composed of three twisted strands. For a long time, a 6-strand cord was the standard, but today's taste favors softness and the use of lightweight ropes.
A multi-strand cord is much stronger than a cord that has only one strand. This sturdiness makes it ideal for use as plant hangers, macrame shelves, or chairs.
Many macrame artists talk about using 3ply or 4ply macrame rope. That means that the number of strands is twisted together to create one strand. You can start to experiment with macrame cords with more than three strands. It means you can have 5, 6, or 4 strands all spun together into one strand.
Nowadays, 3ply cords are the most common and popular cord among macrame enthusiasts.
Braided Cord
Braided cords are made up of many single threads that are braided together to form one cord. Braided Cords with strands that are structurally sound are less likely to break. They are also thicker and more rigid than twisted cords.
A braided cord is the most cost-effective way to start macrame. These cords are strong enough to handle larger projects, and they can also be used as t-shirt yarn. However, they are not the best cord for beginners to learn macrame and knitting as they require more experienced hands. Once you have some experience in macrame designs, you can start experimenting with this type of cord.
Macrame Cord Materials
There are fundamentally two types of materials that you can use to make a macrame cord. They are:
Natural Fiber
Synthetic Fiber
Both of them have some features that are useful for different projects.
Natural Fiber
Natural fibers are those fibers that have been naturally produced in the environment. They can be produced by animals, plants, or geological processes. Natural fibers include cotton, linen, and jute, as well as wool and hemp.
Natural fibers are the most preferred choice. They are all biodegradable, making them an eco-friendly choice for crafters. However, they are not suitable for outdoor projects because they don't withstand the elements.
Natural fiber can be dyed in a variety of ways. You can purchase cords pre-dyed in a wide variety of colors. However, if you wish to dye your cord at home, you should stick with cotton, wool, or linen.
Synthetic Fibers
Synthetic fibers are another option. Synthetic fibers are manufactured of synthesized polymers from small molecules. The compounds from which the fibers are made are extracted from crude materials like petroleum-based chemicals or petrochemicals.
For projects that are outdoors, synthetic fibers such as nylon, acrylic, paracord, plastic, or polypropylene, are excellent choices, as they are sturdier than natural fibers. Although many synthetic fibers are still quite soft, don't expect to feel the same as wool or cotton.
Things to look for in a Macrame Cord
There are some additional properties of these cords that you should carefully consider before knitting a plant hanger. Let's dive into those properties.
Texture
Your cord texture can make a project look more attractive. The texture plays a more critical role for most macrame patterns that are likely to touch your skin regularly, such as hammocks, chairs, or fashion accessories.
The texture will also depend on the material used for your macrame cord. Synthetic rope and cotton rope are both gentler and more comfortable for the skin. This makes them ideal for accessory projects.
However, natural materials like hemp and jute can be more rugged but are great material for creating rustic and long-lasting home décor pieces such as plant hangers.
You can try out different brands and find the suitable macrame cord texture for you. Not all macrame cords made of cotton are created equal. There may be minor differences in texture and feel between cord suppliers.
Thickness
The weight or thickness of your cord is something you should not forget. You'll lose visual texture if you choose a cord that is too thin. Conversely, a cord too thick can make your finished piece look clunky and awkward.
The thickness will impact the look of your project and affect how easy the cord will be to work with.
Macrame cord has no standard thickness. It all depends on the situation. While there is no single thickness that works best, a 3mm to 5mm cord will work in almost any situation. It's also easy to weave and tie, unlike thicker cords.
Also, remember that you can include beads and buttons in your design. So, your chosen cord must fit through the beads.
Color
Macrame cord is available in almost any color! You can even learn how to dye macrame cord to match your color preferences if you are unable to find it.
Nevertheless, macrame is made from two main colors: white and natural cotton. Natural cotton looks a little bit more beige than white ones but still has a great clean look.  Natural cotton is soft and welcoming to your eyes, making your home a little more comfortable.
White macrame cord has a brighter, crisper appearance but retains the warmth only textile art can offer. This cord is perfect for Scandinavian and farmhouse decors and will keep your walls bright and airy.
Length
The length of the cord you purchase before you start a project will depend on the size and complexity of your project.
First, look at the patterns and measure it from one end to another. To find the ideal length, multiply this length by four. This method will give you the extra length to do the knotting. The actual length will depend on the type of knot and the technique used, but it is a good rule for beginners to follow.
Stiffness
Cords should be flexible enough so that they can bend or curve to fit the requirements of the pattern. It is recommended to use a thinner macrame cable if you are making a necklace or bracelet. An example of this is an embroidery cord made from cotton. It's soft and flexible.
Typically, Cotton, Satin Royal, Nylon, and silk are recommended because of their delicate texture and softness. You can also use leather, as it will soften after a while.
Conclusion
Finding the right macrame cord can be difficult. It's essential to know how to identify the various cord types and choose which one will work perfectly for you. You can also buy a macrame cord online from many different sellers. However, it is almost impossible to determine which ones are the best until you have tried them. Choosing a macrame cord from one of the sellers above will cut down on the hassle of dealing with trash purchases and stress. Also, you can write to us for more information and suggestions (data rights reserved by our privacy policy).
We hope you found this helpful in your quest to become a macrame master.
FAQs
What is the difference between a macrame String and a macrame Cord?
Ans: The thinner macrame cord is referred to as the macrame string. Usually, 1 mm to 2 mm thick cords are called strings because of their softness and diameter.
What can you use instead of a macrame cord?
Ans: Instead of a macrame rope, you can use wool, leather, yarn. As long as the fibers can have strong knots, you can probably use them for knitting.
What does single-ply mean?
Ans: A rope made up of one continuous strand is called a 'single ply'. It can also be called a single strand or unpled thread. Single strand ropes are very soft and easy to work with. However, a single strand cord does not have the strength of a 3ply cord.
Can you dye a macrame cord at home?
Ans: Of course! However, the cord has to be made of natural fibers. Synthetic fiber cords do no